---
Gallery Page 16
Dave Shelby's & Ellen Tani's "SHAMU"
Dave and Ellen's 75 Ramcharger came to Davis, CA from North Carolina in 1976. One of Dave's friends (a faculty member at UC Davis) gave it to him in 2002 in exchange for Dave getting the vehicle through the California smog test. You can see why their Ramcharger is called "Shamu", given its unique paint scheme. The exterior paint, including the white accents, is 27 years old.

Originally equipped with a ragtop, the hardtop was added about five years ago. Most of Dave and Ellen's attention has been devoted to the interior, rebuilding rusted areas on the floorboard with metal and fiberglass, coating the floor and rear bed with rubberized bedliner, adding new carpets, seat covers, etc. They have added an Alpine CD player, repaired the heater controls and dash lights, replaced the door seals, and added the factory vacuum/volts gauge cluster to the left wing of the instrument panel. Most importantly, they found the missing "D" which allowed them to restore the "DODGE" lettering to the front of the hood.

Shamu has full-time four wheel drive, a four speed manual transmission, and a 318. She came to Davis with a 4" lift kit. Since she came from North Carolina, she has no catalytic converter. The exhaust system consists of dual glass packs with pipes exiting just behind the doors. She's got power front disc brakes but everything else is manual. Total miles are 118,000. Mechanical work has been limited to milling an exhaust manifold to eliminate an exhaust leak, minor gasket replacements, and repair of a front brake line that had been crushed. Dave and Ellen's next projects include detailing the engine, installing a NOS class three trailer hitch, and repair or replacement of the steering box.

Since the above picture was taken they have added an original Hooker Headers front push bar, and will add a pair of NOS Hella fog lights. They promise to send up another pic when they get the fog lights on. Nice job Dave and Ellen! Dave's email address is: drshelby@ucdavis.edu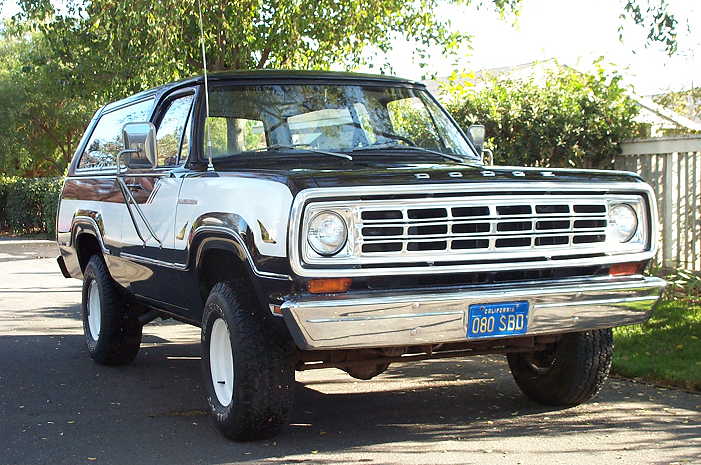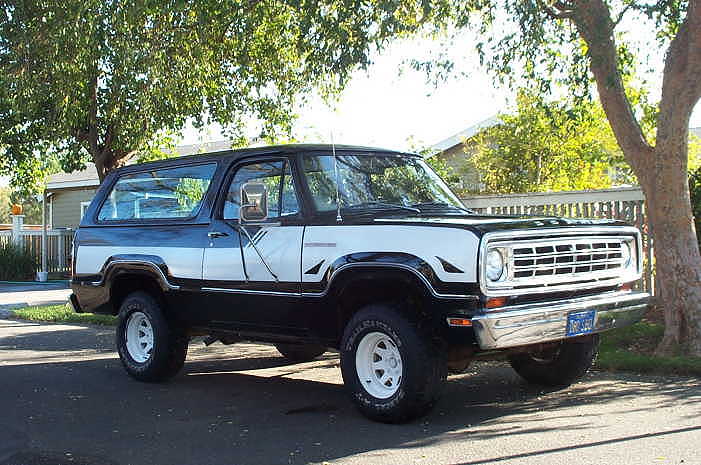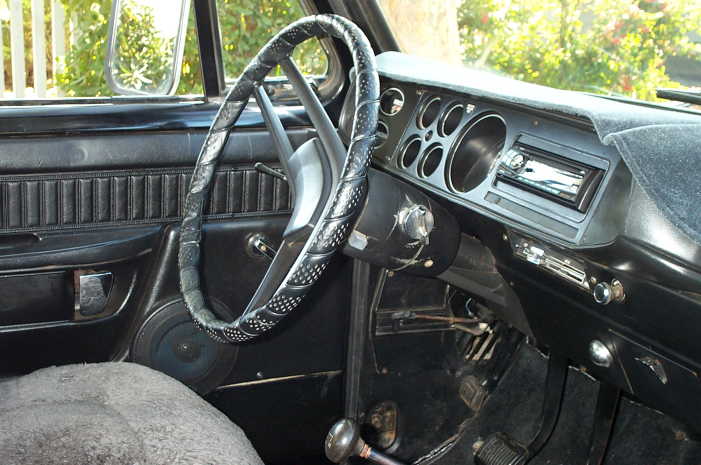 UPDATE: Dave said Shamu looks great with the Hooker push bar and the Hella fog light. They also converted Shamu to power steering which made a big difference. Keep checking back...Dave said he would send new photos soon.


---
Are you proud of your Dodge truck or car? Want to show it off? Please email me a pic along with a description of your vehicle and I will add it to the Gallery.




Joe Leonard 2007-02-09