---
Gallery Page 36
A Successful Father and Son Project
John and his father bought "Old Yeller" in October last year for a project truck and for hauling wood. It is a 1980 Adventurer Shortbed D150. It has a V8 318. John was 15 when the project began. John and his dad did all the body work. They raised the back end 5" with 3 ton helper springs and installed new shocks. They also put in a new trans. They used fiberglass to put a heavy patch in the bed, added a new hood and replaced the fender wells. Most of the trim was rechromed. The cab floor was also replaced with one from a newer truck. The interior has a new custom carpet and BIG speakers for a now 16 year old John. Future plans include new engine chrome and new wires.

UPDATE: John is now 17 and has completed the interior of his truck...he promises to send us more pics soon. If you would like to email John about his truck you can reach him at: DodgeAdventurer@aol.com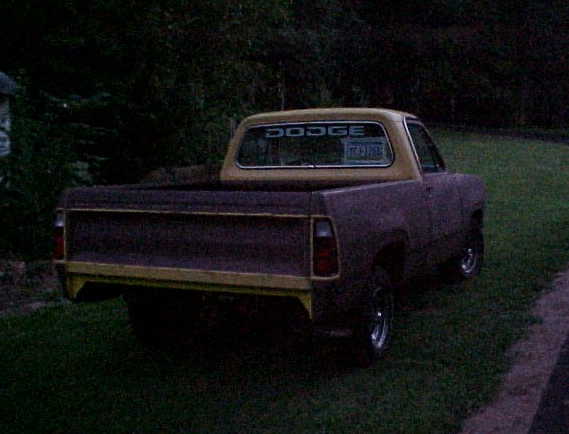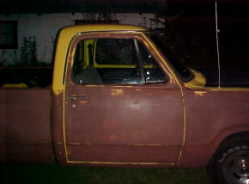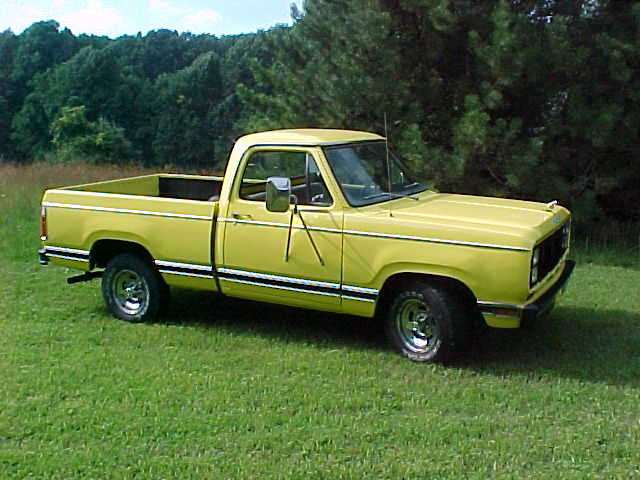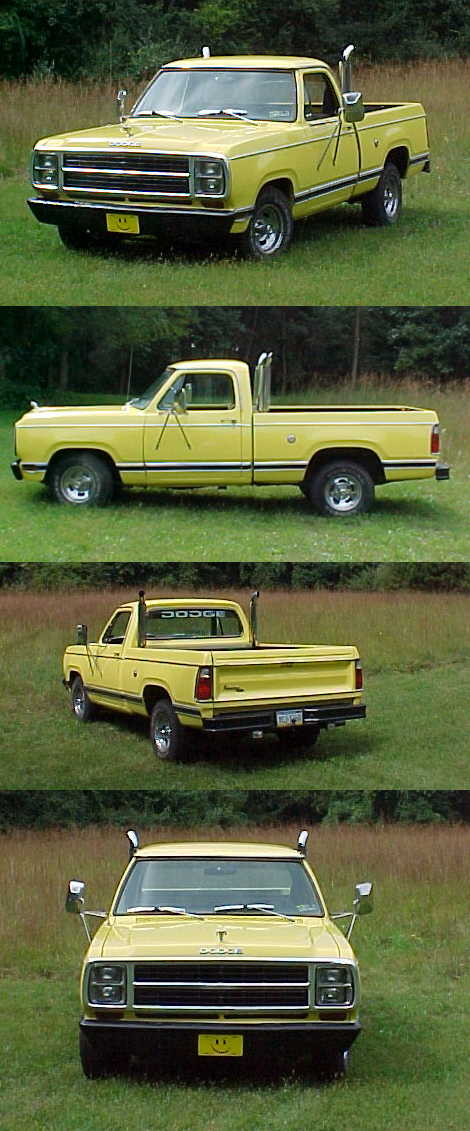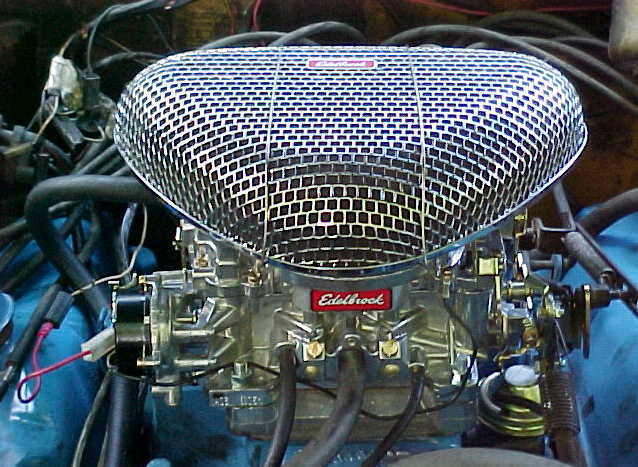 UPDATE: This is what happens when a school bus runs a stop sign and you avoid it but not the pole :(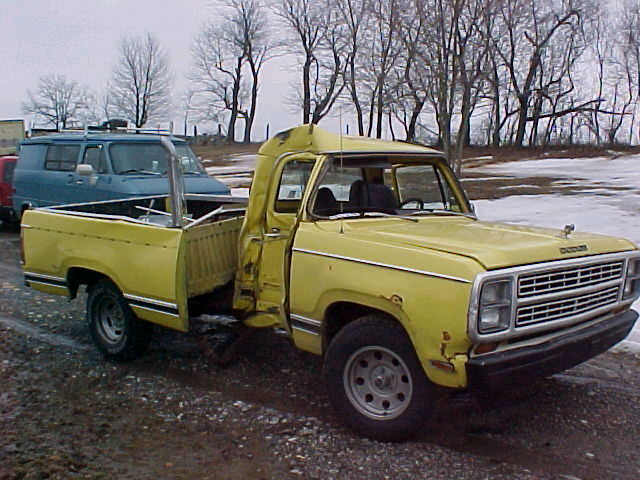 John purchased this truck after old yeller was totaled after avoiding a school bus that failed to stop for a stop sign and side swiping a pole instead. He calls her, "REBEL".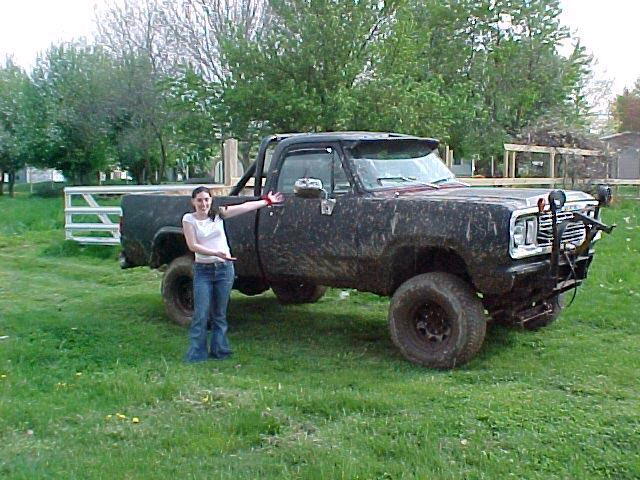 This truck was a mix between a 1980 3/4 ton chassis and a 1979 body. When John first purchased this truck it had a plow setup on it, the 360 was lacking power, steering was loose, but it had nice heavy duty drive train and a lift with a nice set of 33 inch street tires.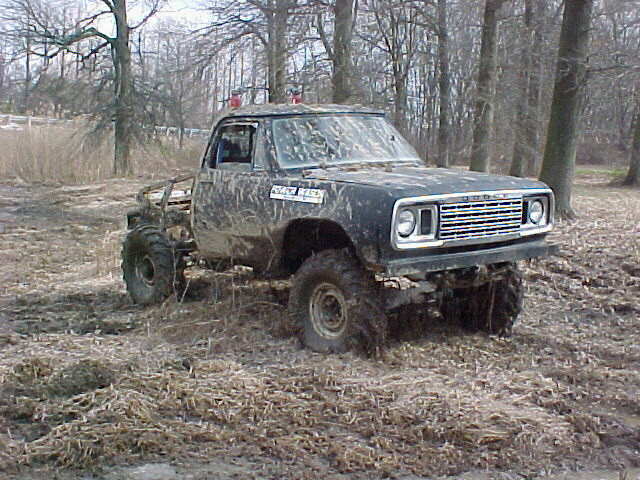 It was his daily driver for a while until he could afford a car. Rebel then temporarily retired for use on the farm and for some mudding. He got stuck up over his axels in mud one day and decided to rebuild this truck from the ground up. The most important thing for off-roading is your tires. John decided to run some extreme tires 37" or larger mostly for mudding but something that he could go to Paragon (the largest off-road park in the north east) with and still do okay on the rocks. 38" TRACTOR TIRES DID THE TRICK. He mounted them on some stock sized rims to keep the track width down. He removed all the interior, including the gas tank, took the body off the chassis, then repaired damaged metal and painted the chassis and body. John knew he wanted a rear locker so he pulled out the differential and welded it solid. The engine was replaced with the performance Edelbrock engine from "Old Yeller". The trans was converted to a manual valve-body heavy duty everything by Greg at Cottman trans in New Castle, DE. John installed a B&M cable ratchet shifter to simplify things. He had a new high performance torque converter made by Pat's converters. He then begun reassembly. All new brake components, booster, master cylinder, lines, hoses, pads, shoes, springs, wheel cylinders, drums were installed. He then verhauled the steering system. No factory wiring! He rewired the ignition, installed his own custom maple dash with black face chrome bezel gauges and toggle switches, with an arming switch for the starter. John built a custom tire rack to carry the tires he didn't have on at the time. Removed a lot of fender to fit the agricultural tires comfortably. Built custom heavy steel bumpers. Fabricated custom aluminum sheet Inner fenders/ splash guards. He also built a custom exhaust with stacks, including rain guards. He also built a custom tow bar to tow it to Hazelton, PA. ,where Paragon is.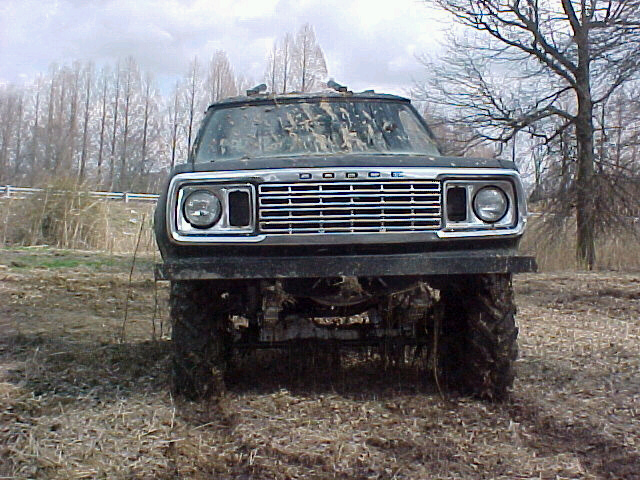 The new REBEL is a real MOPAR beast!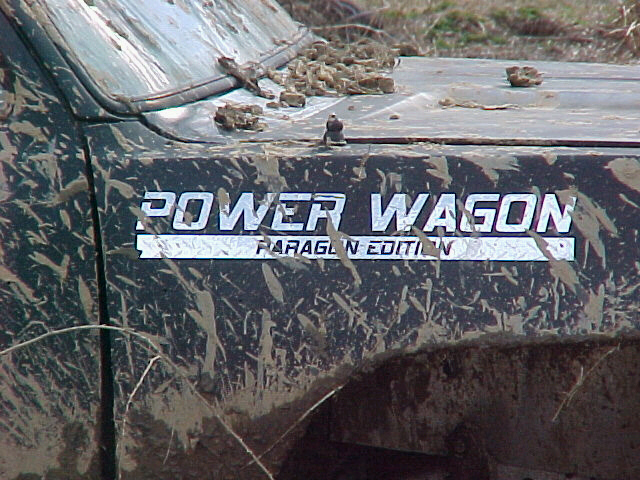 John pulled into the deep hole he got her stuck in before, sat there to eat lunch and pulled out like it was nothing!



He cant wait for PARAGON!



Future things to come are a 4 core radiator and a rock ram steering system.

---
Are you proud of your Dodge truck or car? Want to show it off? Please email me a pic along with a description of your vehicle and I will add it to the Gallery.



Joe Leonard 2007-02-09