---
Gallery Page 46
Ron Kiyomura's Utiline



Ron owns this Custom 100 that just turned 23. To contact Ron please email him at: 72256.2737@compuserve.com

I bought my Utiline in September of 1978. My '73 Honda Civic had bit the dust in the desert and so I wanted something that could take long drives through hot weather. My first thoughts were of a big, strong American built pickup truck.

I asked around, but since it was the beginning of the new 1979 model year, pickings were kinda slim so far as deals went. Considering what I had for a budget, I looked at a well used International Harvester in the used car lot on a Thursday afternoon.

Fortunately for me, and perhaps unfortunately for the dealer, a brand new salesman persuaded me to take a look at the '78 Custom 100 that I now own. When I saw it, I knew I had to have it. Dodge white, big fenders, 318 V8 with a ThermoQuad and a bulletproof Loadflite 3-speed automatic transmission. Just like the old '55 Ford F-100 that I used to own, only not beat up, but brand new.

The salesman was pretty green and hadn't realized that the '78 was supposed to be an "Ad Truck" not to be sold before the weekend! The dealer manager was a real jerk and wouldn't allow me any leeway in buying the truck. Heck, I knew zip about arguing with dealers and he wasn't going to let me even try. I also had to argue about a missing tail light, mirror, air cleaner nut and some other things. He was trying to tell me that it was an 'as is' truck.

Well, I had to wait on the steps of the dealership early Saturday morning with check in hand until they opened. If anyone came in ahead of me to buy the truck, it would be theirs and not mine. I got it, with a sticker price of $4995. I had a stereo/cassette added to it, a non-Dodge Audiovox that is still in the truck today. I made the mistake of buying an extended warranty, but that is a story for another time.

Manufacture date on the ID plate is February 1978. It had 11 or 16 miles on the odometer when I bought it in September. (Can't quite remember!) This truck is slightly different from most others as it was built in Canada. So much for my wanting an American built truck! (I have since learned that Dodge trucks were built in Mexico as well.) Smog pumps are a problem as mine has the hose come out from a different location of the casting. One time during a smog inspection, I was accused of changing the two barrel for a four barrel carburetor. Seems that for a while, there were no 318 TQ's listed in the books.

No frills on this truck. Probably also why it has been easy to maintain and keep running all these 23 years. No air conditioning, with standard vinyl seat covers rubber floor mat and a steel roof (i.e. no headliner).

I was supposed to have the towing package on this truck, but I am not sure that all of the parts on it are the correct heavy duty version. (better alternator and radiator.) If I don't watch the guys who work on it, most will tend to install the regular duty parts instead. I often have to have others work on my truck as I do not have a driveway or a garage to work on it. As it is, the poor thing has to sit on the street at night.

As for changes, my truck is nearly stock as manufactured. Just about the only thing that I have done to it was put bigger tires and rims on it and an aftermarket rear bumper. Originally I had 8 inch rims and G70 15's in the front and 10 inch rims with L60 15's in the rear. Nowadays, if I were to ask for these tire sizes, I would get a strange look from the tire dealer. My first set of rims finally bit the dust about four years ago and now I am using 7.5 inch rims with SR235 P70's in the front and 10 inch SR275 P60's in the rear. I am still not used to these new tire sizes.

As for the bumper, I was kinda broke when I picked up the truck and so I opted for rectangular tubing bumper from Jackman instead of a factory bumper. (Rear bumpers back then were an option and not standard equipment.) The Jackman bumper is strong! I have had a couple of people hit me from behind. One was a GMC pickup about eight years ago. Punched a hole in his front bumper, but mine was Ok.

Although pretty well worn out, I managed to get about 284,000 miles out of the original engine. For better or worse, I went to the Dodge dealer and got another 318 long block installed by them. Not exciting, but I love the reliability.

BTW, it is a sad comment when a guy pays a dealer for an engine install, and still has to troubleshoot and fix little problems that the mechanics missed. I could go on, but I won't. Although I had left behind my hot rodding days before I bought this truck, I got drawn back into it as today's mechanics do not seem to know how to fix the old stuff anymore. The Loadflite has given me problems only once, back in 1983, and is the same Loadflite that came with the truck. Aside from a some work on the tail-shaft housing, I have not had it rebuilt yet.

Curiously, my truck originally came with a 16 gallon gas tank, but when a dealer broke it about eleven years ago, my regular dealer found me a larger 18 gallon tank that fit without problems. Over the past three years I have gotten the seat covers replaced by a shop that did a great job in recreating the look of the original covers. The new dash panel that I bought from you looks great along with the rest of new work done in the cab. Everyone who sees my truck is surprised that the interior looks so good. I will have to take a picture and sent it to you as well.

Since the truck has to sit outside, I have had to get it repainted twice so far. Both times I had a dealer do the work. The first time A Chrysler dealer worked on the body. I have had great service from the Chrysler dealer overall, but since then the ownership has changed and the new owner refuses to work on my Dodge. The second time a Dodge dealer did the body work.

As I have mentioned, the truck is a daily driver, actually the only vehicle I own. With each succeeding year, I have had to do more and more of my own work on it as many mechanics today rely upon diagnostic equipment that plugs into the system for troubleshooting.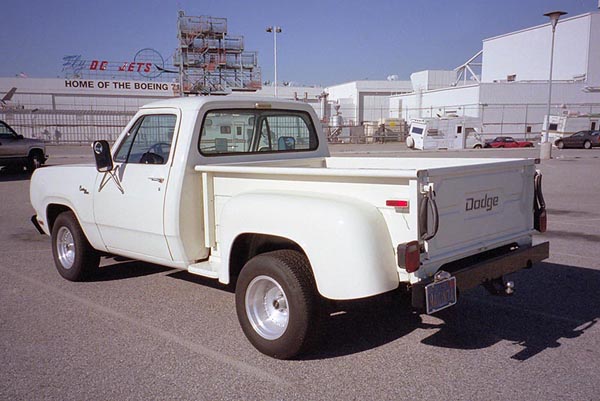 ---
Are you proud of your Dodge truck or car? Want to show it off? Please email me a pic along with a description of your vehicle and I will add it to the Gallery.




Joe Leonard 2007-02-07