Gallery Page 75
Allen Stewart's 1962 Town Wagon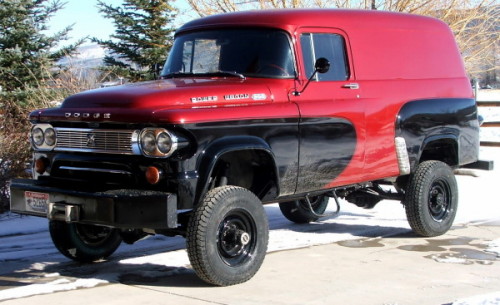 History: I had a 1962 Dodge Town Wagon in college, in which I actually lived one semester! After graduation in 1979, I loaded all my worldly possessions into the back of my '62, and for the next three months my dog and I lived out of it while looking for a home and work in the mountains. I wandered into Jackson Hole that summer, and never left. I know live 25 miles west of Jackson in Teton Valley, Idaho. Unfortunately, we have real winter here, and my '62 Dodge was a one-wheel drive (sometimes!), lacking even a limited slip differential on the rear. Needless to say, it was not a truck meant for Jackson Hole, and I had to sell it. Still, I never really got it out of my system, so 25+ years later I've finally replaced it. This time it's a '62 Dodge Town Panel with 4WD.

I found the truck on the Web; it was living in UT and on its last legs. It had started its life as a right-hand drive, 2WD postal truck. A previous owner had converted it to left hand drive. Larry Burns, the guy I bought it from, had converted it to 4WD using (I think!) the Dana 60 and NP205 (or 203?) from a +/- '78 Dodge Power Wagon. He didn't want constant 4WD, so he put another Dana 60 on the front to have spin-in hubs. I'm not sure if it was Larry or a previous owner, but someone put a Dodge 383cid from a '68 Charger under the hood, including its power steering, and installed a TF727 automatic from something.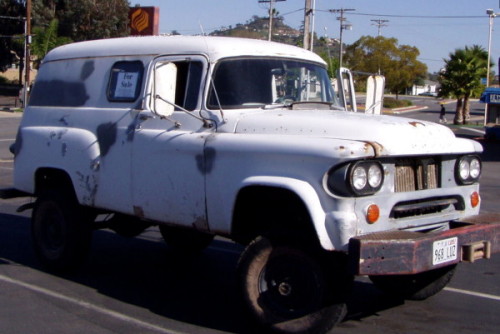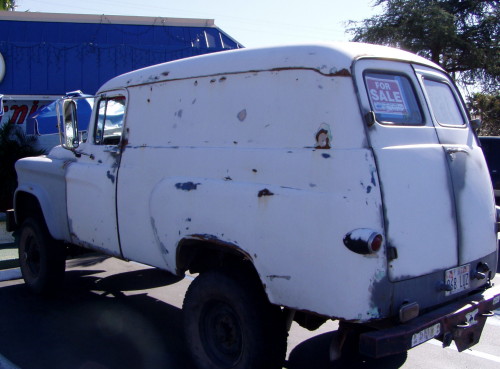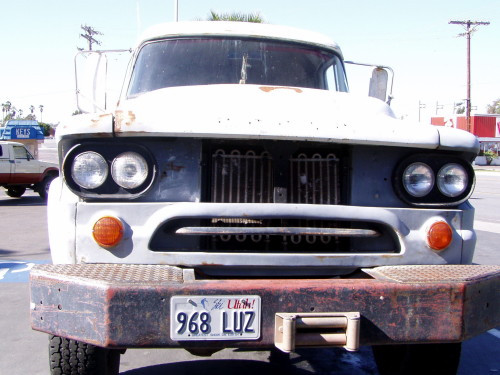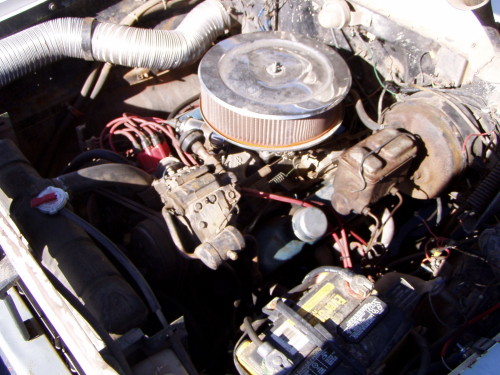 Restoration: When the truck came to Teton Valley, Idaho, it was pretty much a wreck: badly rusted body, hardly running, etc. Still, it was a '62 Town Panel, so I bought it! The project has been about three years in the works, and pretty well busted me! I pulled the 383 and had it completely rebuilt by Jerry's Machine in Idaho Falls. I completely gutted the truck, and after tearing out all the rotten interior, I found that: 1) someone had cut out one whole side of the panel to install a window, and then 2) someone else had taken the window out, but didn't know how to weld! All and all, the interior was a disaster. The exterior was easy: you just tapped everywhere with a hammer and thick chunks of body filler would fall off!

Once gutted and stripped, Lenny Hatteway of Snake River Restorations in Driggs, a true artist, did most of the initial body work, welding and re-welding, and body restoration. Lenny took it down to bare metal everywhere, cut out all the rust and welded in new steel "properly."

Unfortunately, Lenny could not finish the project, so in July of this year, I took the truck to TJ's Restoration in Idaho Falls. There, TJ and Lyle finished the body work, primed and shot the paint scheme I had imagined, and then reassembled the truck mechanically (i.e. the rebuilt 383, the Joe Leonard provided NP445 trans, etc.). They did a great job! In particular, Lyle fabricated awesome steps and hand-holds for the elevated truck that not only work perfectly, but whose lines match the truck perfectly! He also fabricated an awesome step for the rear cargo doors that rotates out of the way under the rear bumper.

We now have the truck shown in the photos: a 1962 Dodge Town Panel Power Wagon with incorrect '300' emblems on the hood, although the axles and springs are certainly up to a 1-ton classification. For power, the truck has a rebuilt 383cid engine with headers and a 4-barrel Edlebrook carb and Edlebrook manifold. The truck's NP445 4-speed trans was provided by Joe Leonard; and it has a NP205 transfer case with two Dana 60's. We powder coated the after market bumpers and the headers, and installed a new heater, a 4-speaker Jensen 6-CD stereo, and two White Freightliner bucket seats. We replaced the cargo floor with a one-piece laminated oak deck, which I will stain and cover with 3/8 inches of clear polyurethane this spring. The mirrors were provided by John Geidl, and most of the rubber by Pat Walsh Restorations. We replaced both door latches with "Bearclaw" latches, and the seat belts are from an old airplane. The underside of the oak floor is painted with undercoating, and the entire interior is sprayed with bed liner material. The truck is completely utilitarian with no carpets, plush interior or the likes.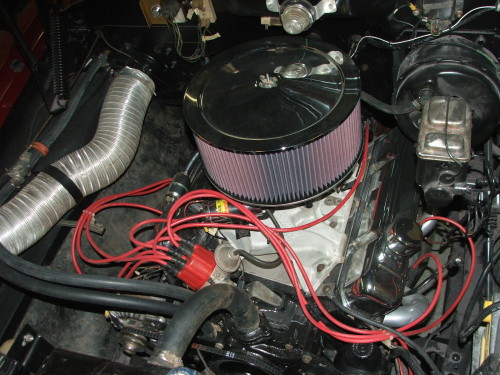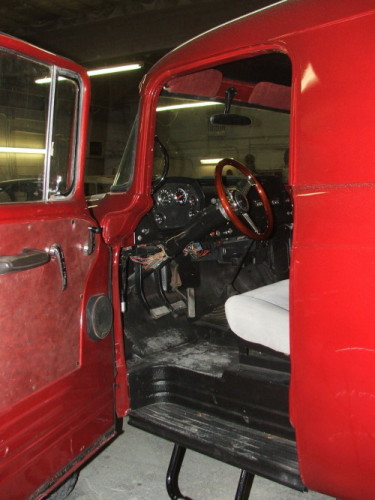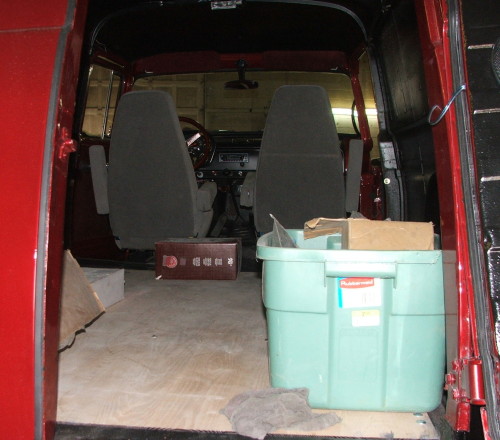 This truck is a daily driver, built to be used in my snow removal business, camping, and to pull my wife Keiko's Asian Food concession trailer. It is the newest member of an "old fleet" of family vehicles, joining a 1960 Willys and a 1959 Triumph TR3. When money allows, I'll have a new head liner made to abate some of the interior noise, and install a front winch.

atsiii@ceoexpress.com

---
Are you proud of your Dodge truck or car? Want to show it off? Please email me a pic along with a description of your vehicle and I will add it to the Gallery.




Joe Leonard 2007-02-08