---
Gallery Page 103
Mark Van Dyne's Takes His 1978 D100 Dodge Truck To His Wedding


Mark bought his 1978 D100 in 2004 just after his first trip to Iraq and got it in shape to use as a daily driver. The truck was a slant 6 model but now has a 318 with 4 speed manual transmission someone slapped into it. When Mark first got his truck that was pretty much the only modification that had been done to it. Even the engine was stock with a two barrel carb.

It currently sits has a MP performance intake, Holly 650cfm carb and cross Hedman headers going to a dual in dual out Flowmaster sitting behind the 318. Although the origin and mileageof the 318 is unknown it runs pretty good. Mark will be replace it with a 360 at some point with possibly fuel injection and a new gear box to replace the NP435 that the greasy old 318 mates up with. The old paint will be replaced by a Viper blue with pearlized silver stripes to replace the black stripes now currently on the truck. The theme for the paint is stolen from later model SS/T trucks but with a retro twist. Like they would have made it back in '78 to sit beside a Little Red Wagon or Power Wagon, but not copying either. Besides, what does SS/T stand for... Super Sport Truck or Step Side Truck???

Now pending a second tour, Mark hopes are to get it somewhat restored/customized and give it another 20 great years on the road.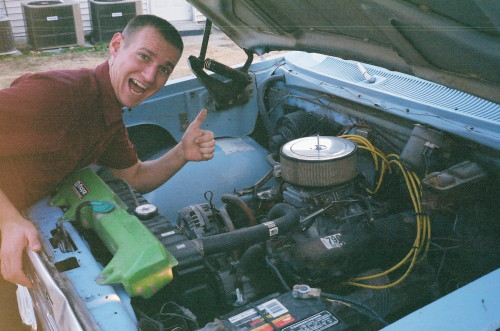 Getting it Road Ready
Wedding Day Handoff
Day After Purchase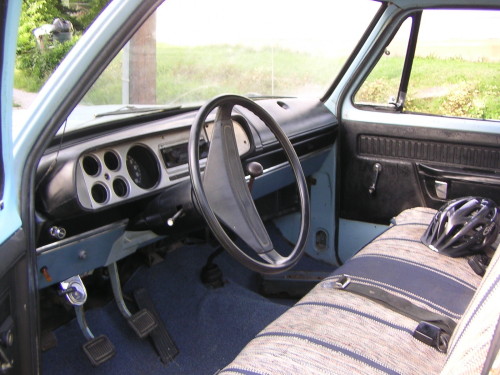 Interior Day After Purchase
If you would like to contact Mark please email him at: mark.vandyne@yahoo.com
---
Are you proud of your Dodge truck or car? Want to show it off? Please email me a pic along with a description of your vehicle and I will add it to the Gallery.




Joe Leonard 2007-07-24