---
Gallery Page 162
Paul Lange's 1983 D100s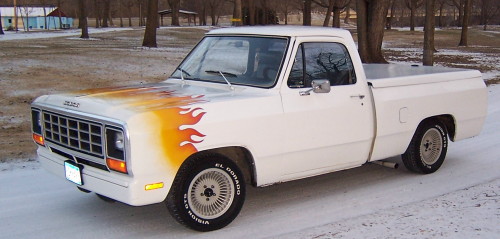 Out of the Ordinary




Could've been your Father's Truck




Why Not!



For most guys, that first brand new pickup… no matter what brand, will always have special meaning. Mine was a 1983 Plain Jane Dodge Ram D-100, 2 wheel drive, regular cab, short box, short of power steering, short of AC, short of power (225 slant -six) short of almost all creature comforts (not even a radio)….. but it was brand new! And I could afford this one… Why not!

2 years later, I had a wife, a child, a mortgage, and a need for a more practical and family friendly vehicle, so I traded the first and only new vehicle I would buy for many years to come for a 1981 Dodge Ramcharger…

Years have passed, and as I looked for a car for my 15 year son to learn to drive, I came across a 1983 D-100, Plain Jane, you know the rest, Dressed in 20 year old black, this was not the truck I bought in 83, however as it turned out, this was the truck that I test drove that day, before I opted to buy the white one… well, if it was good enough for Dad!

What began a just needing a little clean-up and tune-up as my wife puts it, got "a little carried away"… Why not!

Personally, I hold all those Truckin Magazine guys responsible. Every thing we did, we did because they encouraged us with photos of great trucks, and dared us to try it on our truck with step by step articles and how-to's … Why not!

This is a partial list of the changes we attempted, some noticable some not…

CAB
Smoothed front bumper, built structural bumper behind Smoothy.
Smoothed CAB seams, removed emblems and replaced front fenders.
Leather steering wheel and tilt column (from a 86 Ram Charger)
Power steering pump and gear box (from a 85 D-150)
Hand built brackets to install leather buckets seats (from a 82 Cordoba - Corinthian Leather I presume!)
Console between the bucket seats (from a 86 ram charger)
Overhead console (from a Dodge Caravan)
Aluminum brake, clutch throttle pedals
Leather shifter boot, (made from Motorola bag phone case … now the truck has some hi-tech features)
New carpet in the cab
Dash mounted CD and Boom Box speakers


BOX
Smoothed tail lights (hand made rear taillight blanks)
Hand made steel rear roll pan with frenched license plate and taillights ( lights are Stock NAPA)
Smoothed and blanked tailgate , relocated tailgate latch to the inside of the box
Smoothed box of pockets
Custom altered fiberglass Power Lift
Tonneau cover (cut and stretched from a 2000 Ford cover (83 Dodge cover not available anywhere)

Engine (still 225 slant six)
Installed split headers
Built dual exhaust

Body paint
Created template, masked, and aerosoled hood flames
Applied 1/8 blue pin-stripes to flames
Generous coats of clear coat to level pinstripes
Less than Professional body work and application of fleet white paint…

and what do you get?… a daily driver almost any 16 year old kid (or 40 year old kid) enjoys driving…



You can contact Paul at: paul.lange@crystalvalley.coop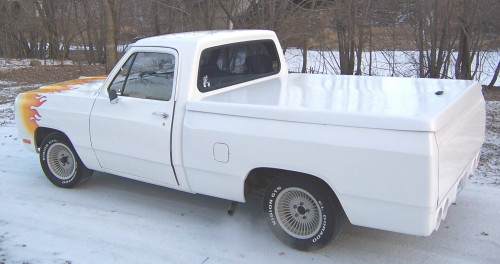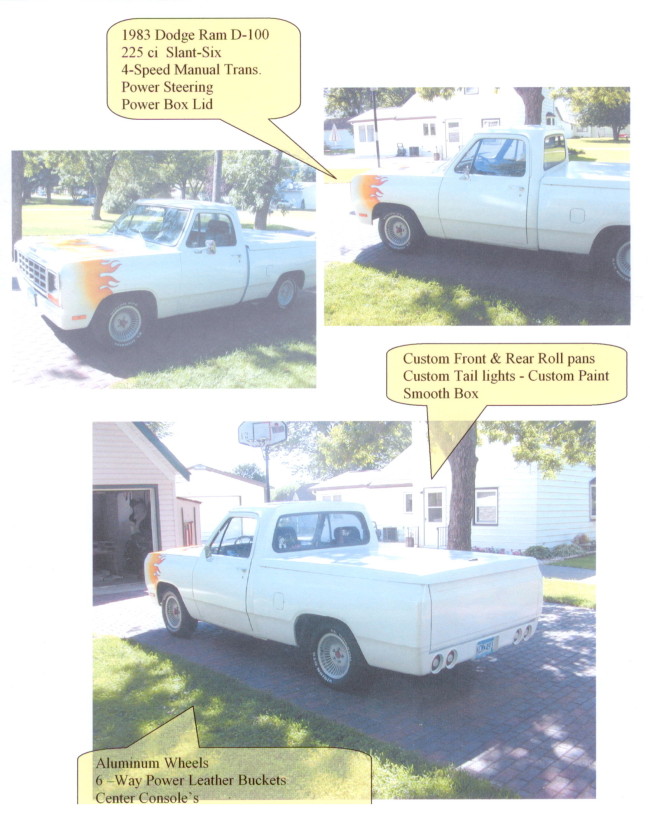 ---
Are you proud of your Dodge truck or car? Want to show it off? Please email me a pic along with a description of your vehicle and I will add it to the Gallery.




Joe Leonard 2008-12-22