---
Gallery Page 244
Donnon Spear's 1979 Power Wagon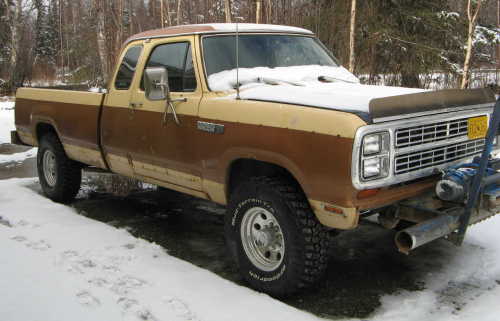 Donnon bought his 1979 W200 3/4 ton Power Wagon from a retired cop in Cordova, Alaska for $800. The previous owner had removed all the air conditioning components and smog control to get the most power from the 5.9 360 that he rebuilt in 1992. When Donnon bought the truck it needed a lot of work. Donnon installed a new carburator, front rotors and brake pads, then gave it a tune up. He removed the hub caps, the running boards and the canopy, installed a new stereo and speakers, and removed all the trim to find those hidden rust spots. Donnon replaced the hood and tailgate due to dents and rust. He plans to restore the whole truck. Donnon's Dad is retired and has 5 more engines for Donnon (3 360's and 2 318's). Donnon plans to rebuild all of them and make a couple of racing engines and sell them to help pay for restoration of his truck. It currently has a under powered 318 in it. The current motor came out of a 75 Ramcharger that had never been rebuilt.

The rear bumper came with the truck, the front bumper was fabricated by Donnon's Dad. It was on his 75 Ramcharger. He said he was getting to old to use it anymore so he gave it to Donnon. Donnon recently bought new tires and wheels and cannot wait to use them this summer.



Donnon promises to send updates as his rebuild progresses, so keep checking back for more pics and details.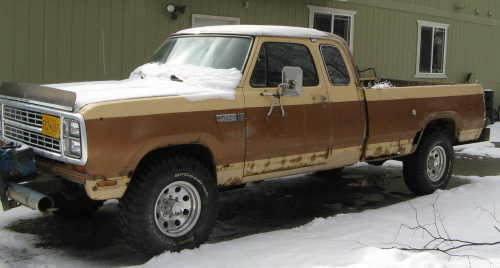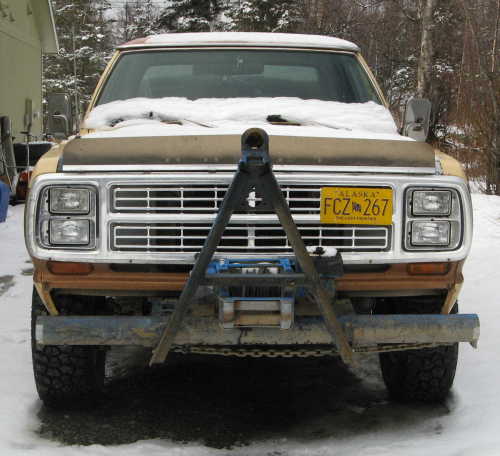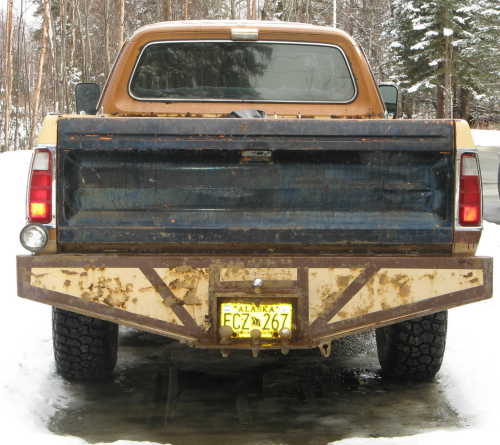 To learn more about Donnon's Dodge truck you can email him at: donnon_72@yahoo.com
---
Are you proud of your Dodge truck or car? Want to show it off? Please email me a pic along with a description of your vehicle and I will add it to the Gallery.




Joe Leonard 2011-04-06