---
Gallery Page 256
John's 1970 W200 Crew Cab Dodge Truck in England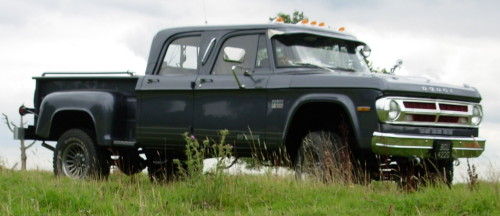 John purchased his 1970 Crew Cab at a Military auction at RAF Lakenheath, an American USAFF base. The slant six engine was blown so he replaced it with a 318ci engine and drivetrain taken from a 1975 W300 that had been sold at the auction for scrap to a dealer who parted it out. This was in 1982. Since then John has fitted it with hand-tooled leather interior and recently had it painted. This was the 5th paint job over the years.

The truck is used weekly to haul John's horses in a WW American trailor that he shipped from Houston, Texas with the interior stocked with spare parts for the truck. The two front doors came from a Dallas, Texas junk yard. One rear door came from Topeka, Kansas and the other rear door from El Paso, Texas. The windshield is from a 1967 D100 taken from a junkyard in Mansfield, Texas. Various other goodies have been brought back on various trips to Texas where John has worked on various Ranches as a Cowboy for the last sixteen years.

In England, John belongs to a Western Club that has log cabins and corrals for the western trained horses. He uses his Dodge for hauling hay and equipment to the club. You can visit the Remuda Western Club website by clicking on the picture below: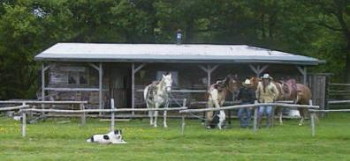 The site is still in the process of being built, but very interesting.
To learn more about 1970 Crew Cab Dodge truck or the Remunda Western Club, you can email him at: remuda@btinternet.com
---
Are you proud of your Dodge truck or car? Want to show it off? Please email me a pic along with a description of your vehicle and I will add it to the Gallery.




Joe Leonard 2011-07-18