---
Gallery Page 271
SOLD: Jeff Herman's 1979 Silver Macho Power Wagon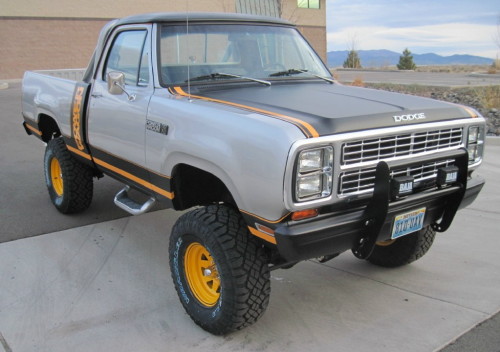 Jeff started with a California truck with a California only 360 4bbl motor, rebuilt .030 overbore, which runs beautifully. The total miles are unknown. Jeff has driven his Macho less than 100 miles since finishing a multi-year restoration. It is an original Macho Power Wagon with the correct original core support tag, cert label and matching vin tag all intact.

He refinished the truck in the original correct single stage Silver Cloud metallic and lo glare black, with a Phoenix Graphix stripe kit.

Jeff's Macho has the original roll bar and he had the original 15x8 Yellow steel wagon wheels blasted, powder coated, and correctly pinstriped, with Nalreto approved reproduction center caps. It is running on new Goodyear Wrangler Dura Tracs 33/12.5 balanced with Sticky weights hidden inside, eliminating bounce.

This truck sits on a Tuff Country 6 inch EZ Ride spring lift, professionally installed by Les Schwab. The suspension operates correctly and the truck goes straight down the road and, as expected, it is a very firm ride. The brakes are new, including all 4 wheel cylinders, rear drums and master cylinder. The front axle U joints were replaced. The tranny shifts properly up and down, and there are no funny noises. It has an Edelbrock 1407 750 cfm carb with no smog provisions and no choke. It starts well even in the cold, but it will not pass smog. It has headers and none of it's original smog equipment. Jeff still has the original single snorkle air cleaner and tin valve covers.

NOS includes:
Tail lights
Marker lights,
Hood script "DODGE"
Dash Emblem
Sill plates
Arm rests
Wiper motor
Various rubber bumpers including for tailgate arms
Dash cluster housing, circuit board, lights etc.
It all works as it should including heater/defroster

New Old Replacement Stock include an AM/FM Cassette from the early 90s and two new 6/9 speakers in the doors.

NORS grill and abs headlite buckets. Front and rear Bumpers and grill guard were powder coated lo glare black.

NORS windshield, door seals, glass runs, and whiskers.
Original factory tint side glass was retained.

NORS tuff wheel

New Sky Jacker steering stabilizer.

A pair of vintage used Steel Horse wide cast steps.

Seats were done several years ago with incorrect silver fabric inserts They have some wear but actually look pretty good in this black and silver truck. Rug and rear curtain are new Auto Custom Carpet pieces.

The cab fuel tank is bypassed, drained and sealed. The interior of the cab has that NEW TRUCK SMELL, and it runs on the main frame tank. The Cab tank could be reconnected.

The wheel wells are blacked out but the underside is not painted or detailed. It is all rust free.

There is no spare.

The Baja lights are not wired.

This truck looks great, and drives very nicely, but it is NOT a show restoration or a 100% nut and bolt resto.

The body still has some dimples that were missed, and there are some flaws in the paint. The bed floor and wheel wells still have some bumps. The truck was almost completely rust free and very straight to begin with. Jeff's goal was to make it a very nice driver that wouldn't be kicked out of most old car shows.

Jeff could have spent another $5 grand on the paint and it would have been a little better. He chose to invest in the drivetrain and original parts instead.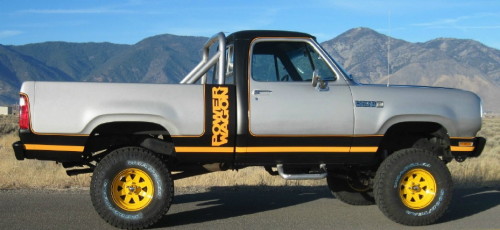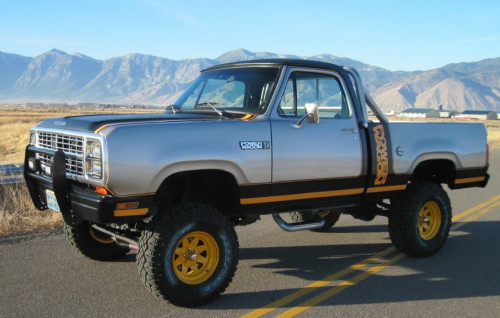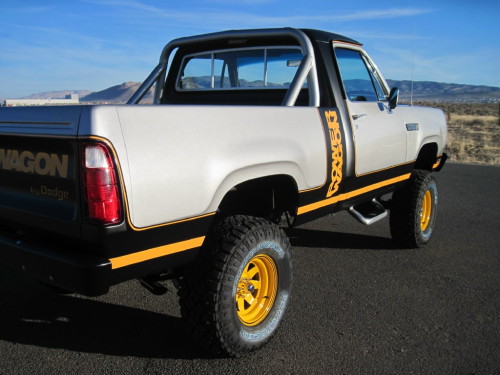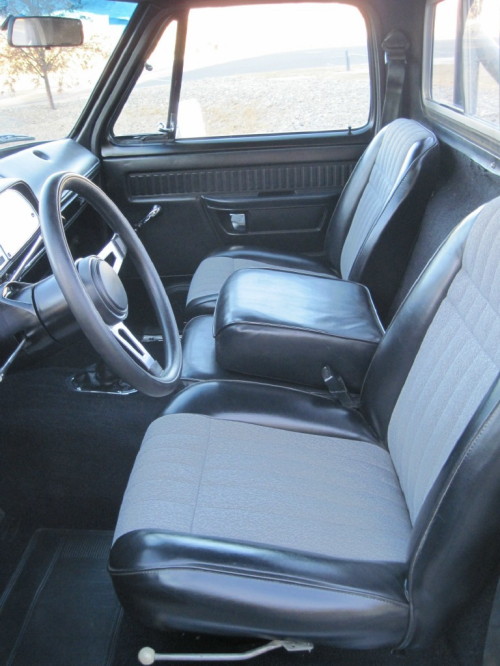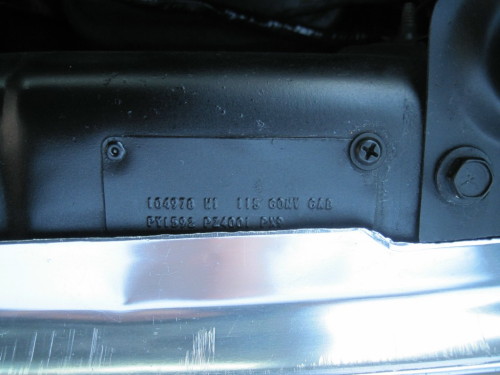 To learn more about Jeff's 1979 Dodge truck you can email him at: jmnruf@aol.com
---
Are you proud of your Dodge truck or car? Want to show it off? Please email me a pic along with a description of your vehicle and I will add it to the Gallery.




Joe Leonard 2012-1-9