---
Gallery Page 281
James Bennack's 1976 W200 Crew Cab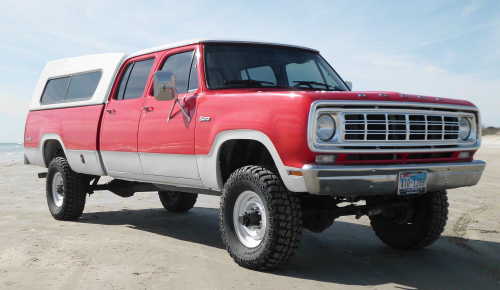 James owns this 1976 W200 Crew Cab Adventurer SE. The inner door seals and other items purchased from Mopar Truck Parts finally made it onto the nearly completed project.



It has a 99 5.9L Magnum with a MP PCM, a NV4500 5 speed, a 90 NP241 t-case, an 81 front Dana 60 with the original Selectro locking hubs. The rear Dana 60 is original 76. The frame started life as a 84 D200 Crew Cab, and was converted to the current 4x4 set up using all original brackets and crossmembers. Currently, the truck gets 14 MPG, but will be getting a Cummins 5.9 conversion in the future, along with a disc brake Dana 80 rear axle, hydro boost brakes, and a divorced 205 transfer case. The colors are Dodge Truck White and Viper Red.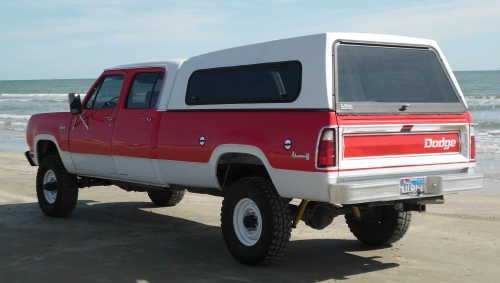 UPDATE: July 2021

James left the 5.9 Magnum, it runs too good to mess with. He did add a 6" lift with cross over steering, HD shackle pivots, HD rear leaf spring mounts and hangars, and a rear shackle flip to go with the replacement lift springs. His truck rolls on an original set of Jackman wheels and 37" BFG tires. The interior has new carpet, with added heat/sound barrier,and a Kenwood audio system with Kicker amps. A 2nd gen front 60/40 with armrest seat was recovered to match the original vinyl. Jame's truck sports a vintage front winch bumper with a vintage Warn 8274 winch, and a set of original KC lights that were converted to LED. Nice upgrades!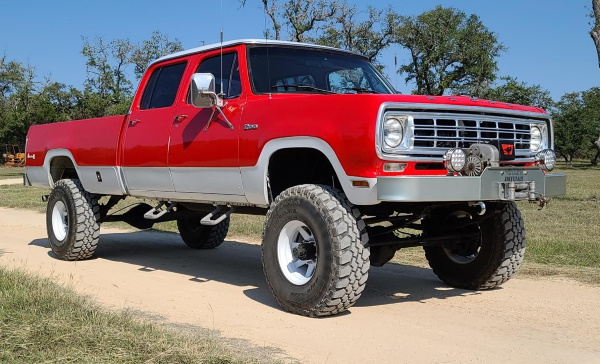 To learn more about James' 1976 W200 Crew Cab you can email him at: brutaloffroad@hotmail.com
---
Are you proud of your Dodge truck or car? Want to show it off? Please email me a pic along with a description of your vehicle and I will add it to the Gallery.




Joe Leonard 2021-07-08