---
Gallery Page 302
Gonzzo's 1960 D100 and 1970 D300 Dodge Trucks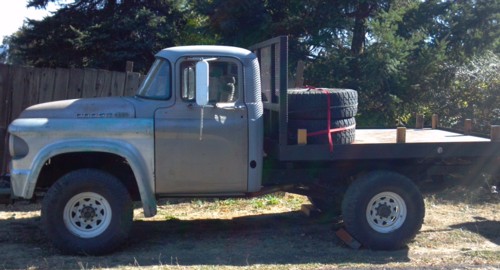 Gonzzo's 1960 truck started out as a D100. The cab was placed on a 1964 Power Wagon chassis and running gear. It has a 383 under the hood. It has a Braden PTO winch that works, as well as all the running gear, and transfer case, hubs etc. It is nearly complete and will be getting some paint fairly soon. Gonzzo uses it at his art gallery with his 1970 Dodge 300 flatbed. They transport and display metal sculptures with the trucks. Gonzzo's 1960 D100 is currently under construction. He will send more pictures after the truck is painted.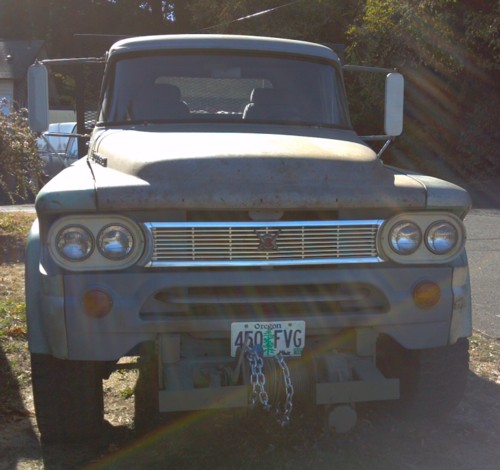 Gonzzo's 1970 Dodge truck is a Stake Model with a new flat bed. It has 10,000LB GVW and a 4700LB payload capacity. It has the original 318 with a 727 torque flight. The truck runs great with only 78000 on the odometer. Gonzzo believes it's original mileage. Somewhere along the line it was repainted the original Desert Sage color. At one point, his truck had a sign and phone number on the doors, but it's long been too faded to read - darn! The patina on this truck is great. Get behind the wheel and throw on a straw hat and it's a time machine to 1970. It has a 159 inch wheelbase. The side marker lights for it are not correct and will be coming off at some point. Gonzzo also has a bed mount crane for it (not pictured). This is a real heavy hauler, but drives like a cream puff.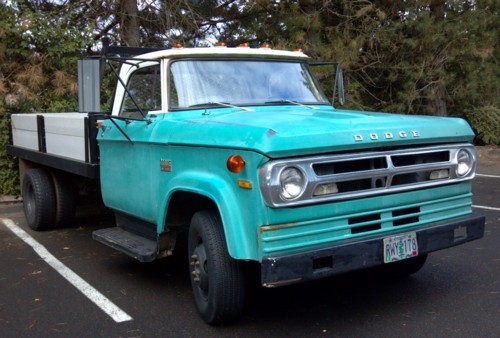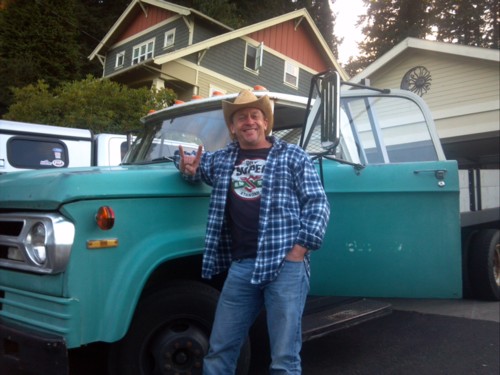 To learn more about either of Gonzzo's trucks you can email him at: gonzzowatson@gmail.com
---
Are you proud of your Dodge truck or car? Want to show it off? Please email me a pic along with a description of your vehicle and I will add it to the Gallery.




Joe Leonard 2012-10-25