---
Gallery Page 330
Gentry Rolofson's 1976 W100 Power Wagon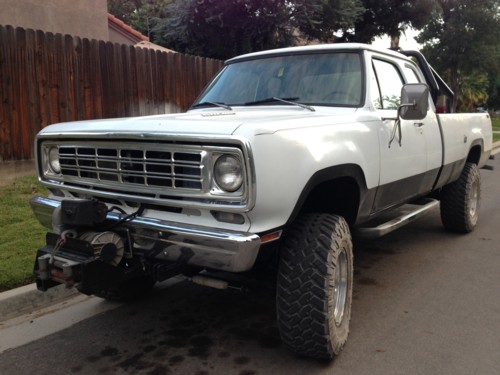 Gentry owns a 1976 dodge W100 Powerwagon. When he first got her, she was worn down, but Gentry is building her back up. The motor needs to be pulled and rebuilt. It has a 440 magnum motor with custom headers and an RV cam. The heads have been ported and the valves have been worked on. Gentry is the third owner, although the man he bought it from, bought it from Dodge in 1978 and gave Gentry a complete service history. Gentry has had a lot of custom work and frame reinforcement done to his truck. Custom tube bumper, a custom radiator for rock crawling in Arizona heat, dual batteries to run the winch and lights, new Bilstein 5100 shocks, new alternator, new power steering pump, and new steering stabilizer. It has a 4.10 ratio Dana 60 rear and Dana 44 in the front. It also has new rotors, calipers and pads, Detroit Lockers all around and many more great features. It is a great truck.

Gentry plans to custom fabricate the front tube bumper to match the rear and mount the winch under the truck in the location of the spare tire. He is also plans on pulling the engine and replacing it with a Stroker or a Cummins Turbo Diesel, if he can find one at the yard.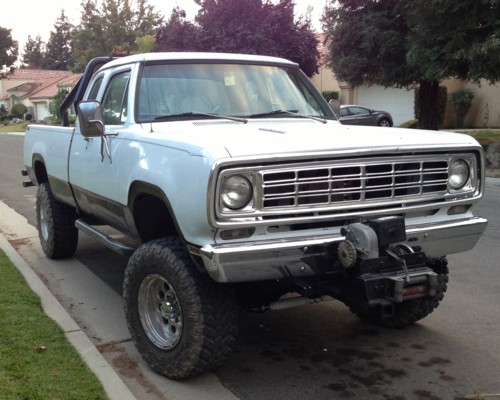 To learn more about Gentry's 1976 Dodge truck you can email him at: xdarkicex@icloud.com
---
Are you proud of your Dodge truck or car? Want to show it off? Please email me a pic along with a description of your vehicle and I will add it to the Gallery.




Joe Leonard 2013-10-09