---
Gallery Page 333
SOLD: Tony Kurylo's 1976 Dodge Truck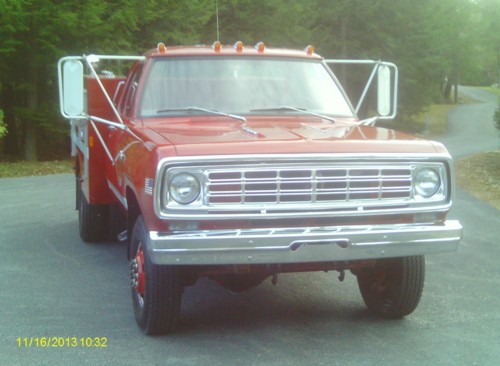 Tony purchased this truck in June 2013. It's a 1976 Dodge W300 Custom with a 4-speed manual trans, Dana 60 front, Dana 70 Posi rear with 4:88 gears. There are 9,500 miles on the truck. The engine is a 360 ci 2bbl. It has factory west coast mirrors, black and white interior, and a working optional factory tach. Remnants from its fire dept days include an aftermarket amp gauge, the big Leece Neville alternator and an on board Vanner battery conditioner. The unity lights at the rear were Tony's addition. Originally, it had halogen scene lights in this area. It was purchased new for use at the Millville NJ airport and after a time was transferred to the Millville Fire Dept, where it served for many years with a skid-mount pump and lighting duty.

Despite the low miles, the truck required some patching of the floors, though holes repaired were not very big. The rest of the body was compounded and buffed. The paint is old but still shines! The interior was beyond filthy, white was a curious choice for a fire service vehicle, but enough elbow grease has rendered it respectable. Tony added a new rubber floor mat and new sill plates. The door seals were also changed. The bed was given a coat of non-skid paint and a plate with its original number and letter designation for Wagon 39. A complete build sheet was still behind the seat.

Mechanically, it has been given a good going through. Starting with valve seals,muffler, water pump,ignition module, wires, hoses, belts, carb rebuilt, grommets, gaskets, etc. Transmission gaskets were changed to stop the leaks and both differentials were cleaned and flushed of old gear oil. The transfer case also got some new seals and fresh oil. Brakes were fine, they were dis-assembled, cleaned, lubed and re-assembled. Tony also added some Bully steps and front mud flaps.

The truck will hit the road Dec 2nd. Tony's plans are to use it sparingly as is, get a bit of work done with it and continue with the restoration, and share it at cruise nights. It needs a correct front bumper, and a few odds and ends. There is still a bit more undercoating and frame coating to get to.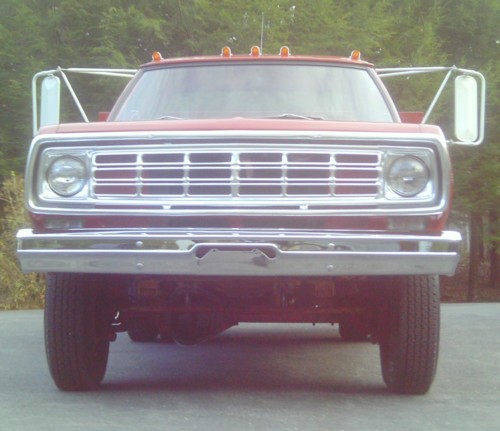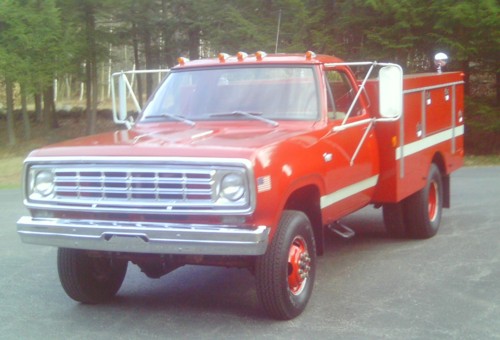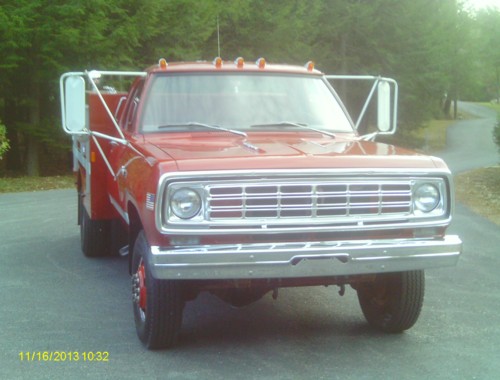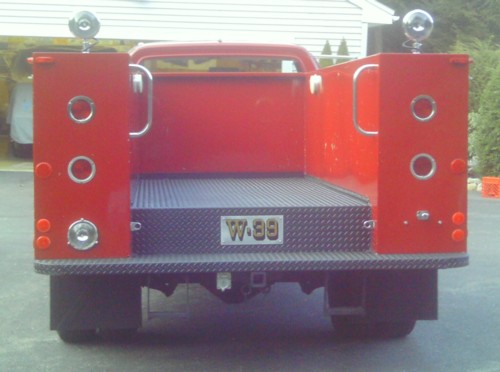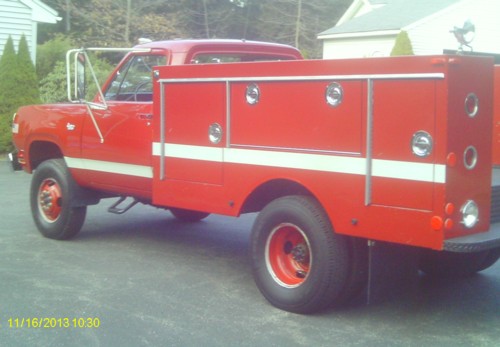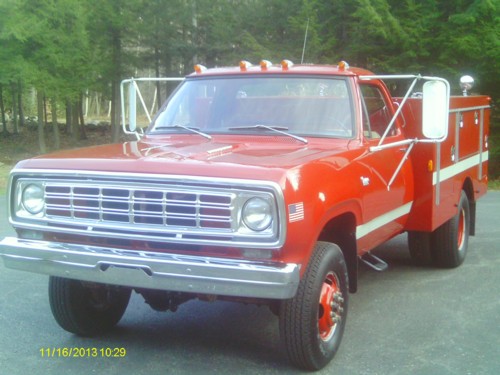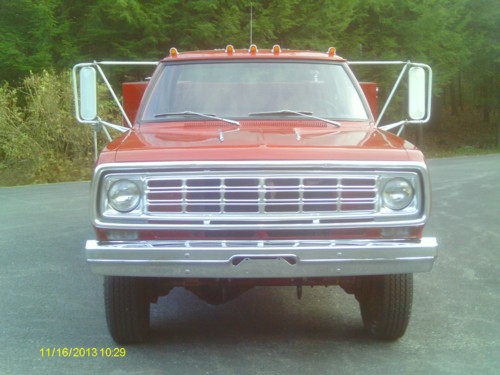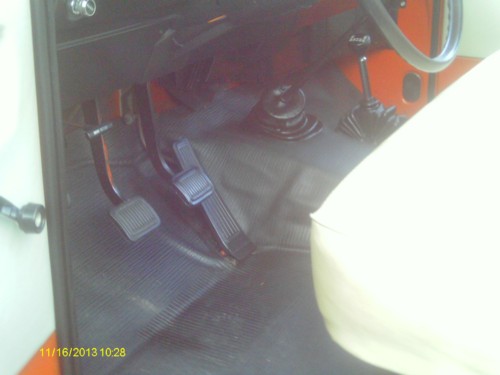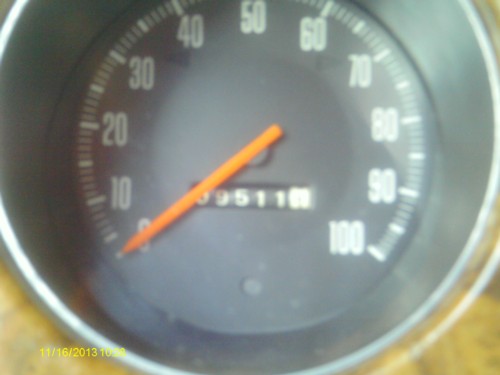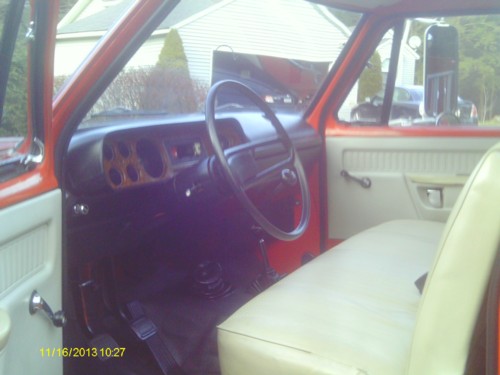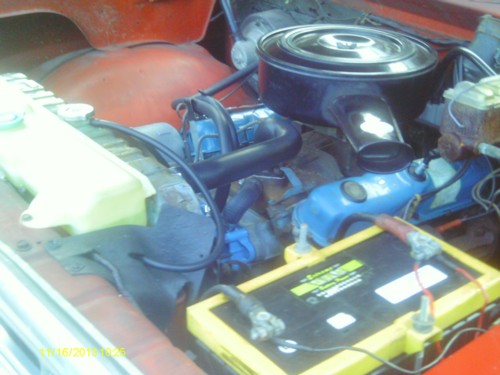 UPDATE (February 2019): Tony SOLD his 76 W300 truck.
Tony also did a great restoration on a 1975 Ex Fire truck. Click on the pic below to read more about it.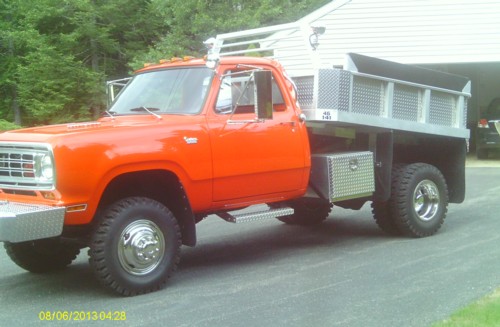 Tony is always happy to talk to fellow Dodge owners and share a story, parts source etc. You can email him at: anjoku@verizon.net
UPDATE (April 2016): Tony just finished another W300 Dodge truck. Click on the picture below to read more about it.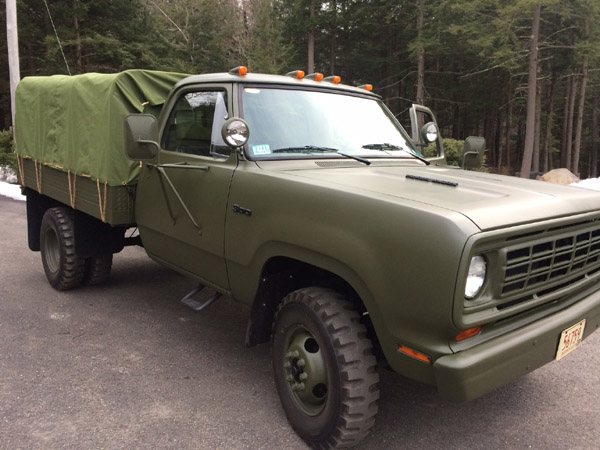 ---
Are you proud of your Dodge truck or car? Want to show it off? Please email me a pic along with a description of your vehicle and I will add it to the Gallery.




Joe Leonard 2019-02-17