---
Gallery Page 169
TRADED: Jeff Fanty traded this 1974 Dodge Power Wagon for a 1986 Ramcharger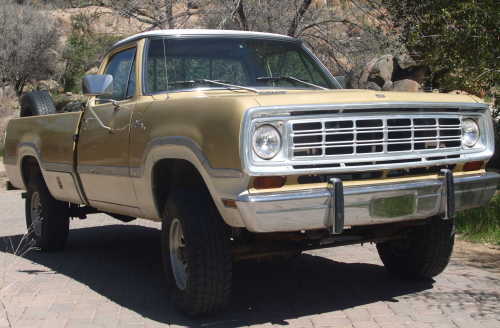 Jeff is selling his 1974 Dodge Power Wagon, 360, 727 transmission, Dana 44 Front, Dana 60 rear, with Camper 7500 and Adventurer Sport package. Jeff is the 2nd owner of this 128,000 mile truck and believes it is a real time capsule. The almost entirely original 4x4 works great, has Warn premium hubs and runs great. It was Jeff's daily driver and he would drive it anywhere.

Basic maintenance was always done, within the last couple years Jeff replaced the original master cylinder, a both rear wheel cylinders, front brake shoes and all the shocks. That's about it, everything, yes everything works but the original oil pressure gauge was replaced with an aftermarket gauge at one time.

All bright work is still intact, though the Old Timer (previous owner) got a little pop rivit happy. Interior is all complete and original, (has factory stereo) except for chip board cover for interior fuel tank. Seat backs still have chrome medallions, great to have for factory upholstery.

Paint is OK, you can't really see it in the pictures, but the Old Timer strikes again. He had paint matched to body color and proceeded to spray the chips in the paint so there's these shinny polkadots all down the sides. Rust is very minimal, the worst is over the upper rear wheel wells, go figure. Photos show some type of repair attempt that is pretty poor, but it never bothered Jeff much. Right front fender has a stress crack from 2nd battery tray now not used. The driver's door has a light 5" long dent, see photo below.

UPDATE: Jeff traded his Power Wagon for a 1986 Ramcharger. Watch for pictures of his "new" truck in our gallery coming soon.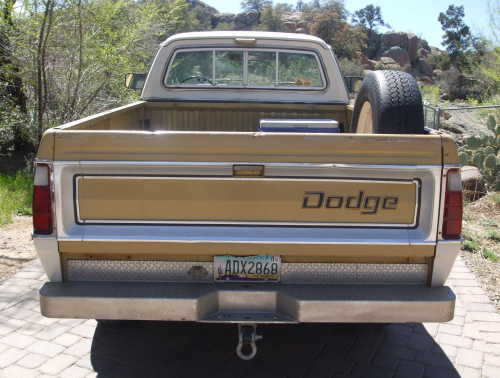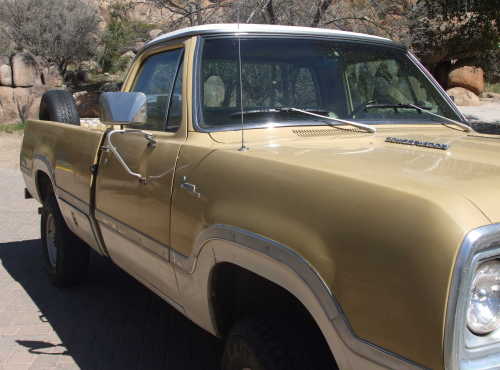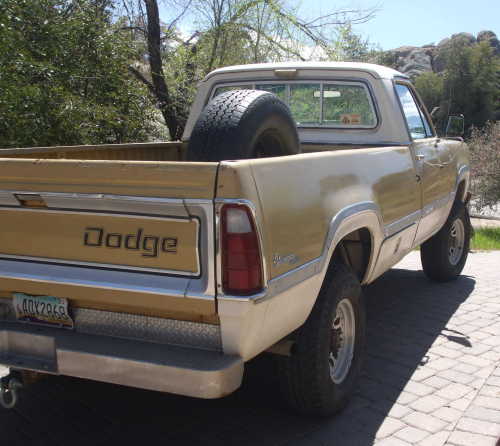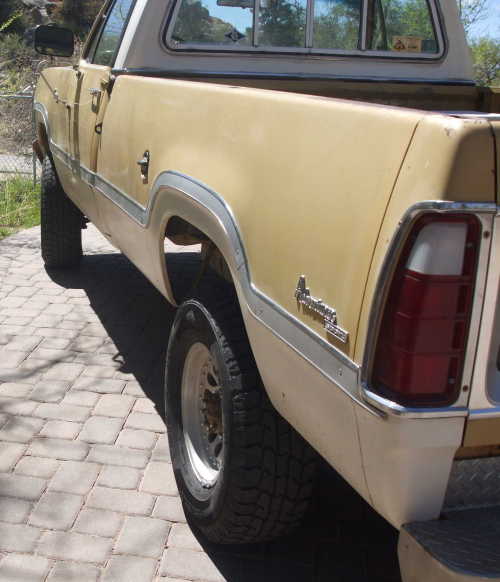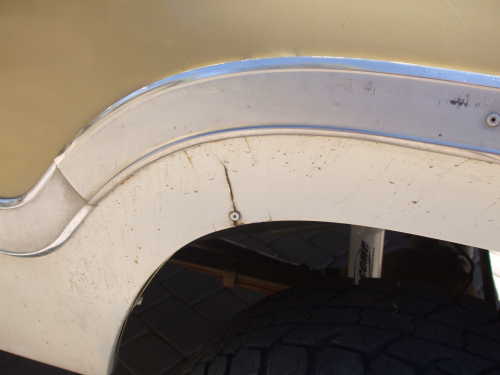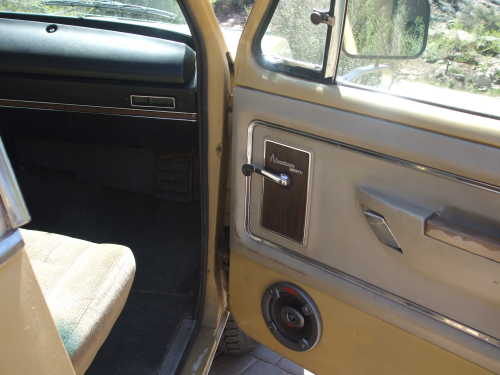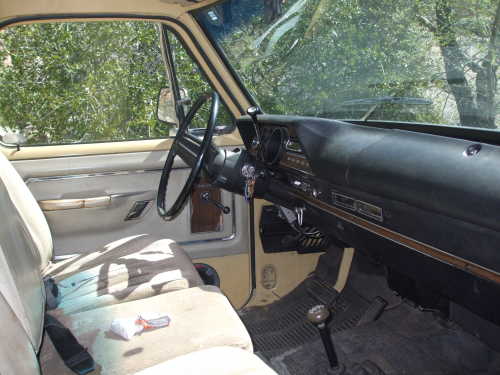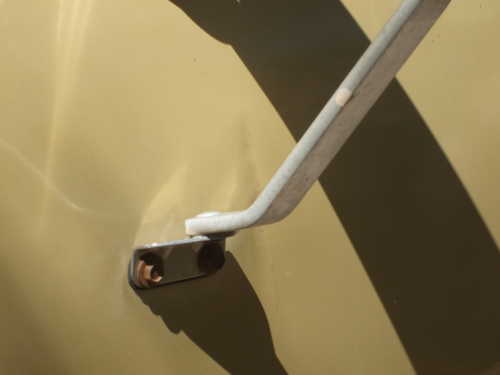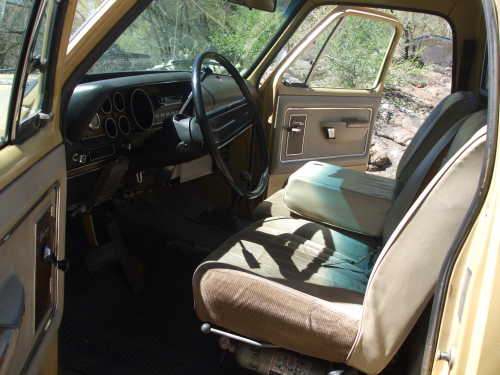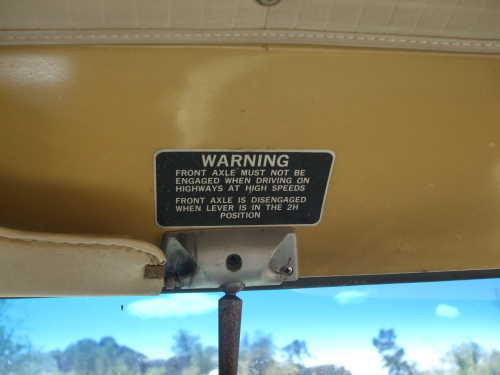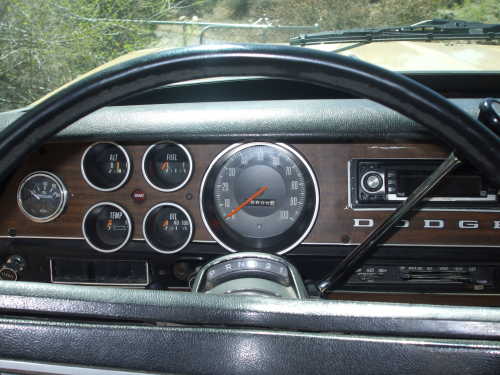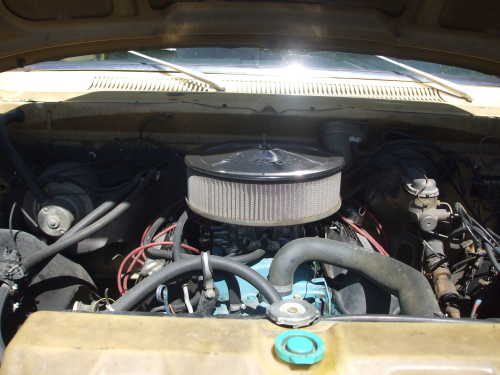 ---
Are you proud of your Dodge truck or car? Want to show it off? Please email me a pic along with a description of your vehicle and I will add it to the Gallery.




Joe Leonard 2011-09-19