---
Gallery Page 180
1965 Dodge W200 Power Wagon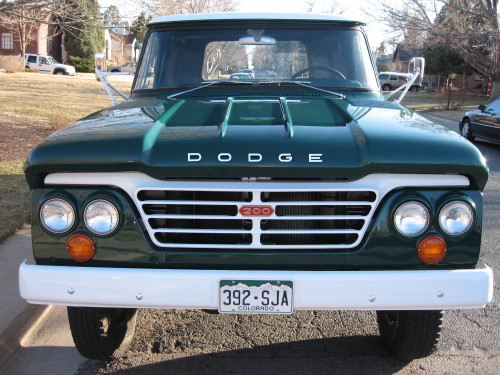 Justin recently sold his 1965 Power Wagon but we thought visitors to our site would enjoy seeing what a great job he did on this truck, so we decided to keep it in our gallery.


---

This is an early 1965 Dodge W200 Power Wagon and its factory original with no modifications. I consider it to be very rare. They changed the headlight configuration in the later part of 1965, so this is the last year for this style with the 4 headlights.

This truck has just 18,510 original miles. I am the third owner of the truck and it was originally ordered and purchased new by a Church to tend their grounds and plow snow in their parking lot. The second owner bought it from the Church and it sat in his garage and he never drove it. That is why the mileage is so low.

I have a clean Colorado ďAĒ (actual mileage) title for the truck. The truck has the original 318 in it and it has the factory NP435 4 Speed transmission with Warn locking hubs. This truck is in super condition. When I purchased it there was some minor rust on the passenger side rocker, both floor pans, the tailgate and a small spot in the bed. Nothing serious, but I purchased floors and a rocker panel from Vintage Power Wagons, I bought a used rust free tailgate from Dennis Sherman at Power Wagon Parts and I had the other areas professionally repaired and welded with metal.

I also put in a new cab mount bushing on the passenger side and new bolts through on each side. The truck body is rust free and 99.8% metal. The only body filler that was used was on a small area the size of a golf ball just in front of the passenger door on the very bottom.

This truck has always been garaged since it was new and is still currently being kept in my garage. After having the truck repainted I sealed the floors and all the wheel wells with a black rust proof spray liner. The inside of the bed was also done with a roll on liner after it was painted. It looks very nice. I also purchased door hinge pins from Vintage Power Wagons and had the hinges re-drilled and re-pinned and aligned on both sides so that they close smoothly. I put a new star wheel in the driver door because the old one was worn. The passenger door was pretty much unused and in great shape.

This truck runs incredible. It has a new battery, new points, condenser, cap, rotor, plugs, starter motor, ignition switch, head light switch, belts, and exhaust system with a new muffler. It has newer Dunlop A/T Tires, and the bench seat was reupholstered in black vinyl. It also has a new factory original gas tank, gas cap and gas lines. The carburetor was rebuilt and it has new bolt hardware for the original bumpers and mirrors. It has a new headliner.

I have rebuild kits for both the brake and clutch master cylinders. It currently DOES NOT need them to be done, but I have the kits that will go along with the truck should they ever go out. I think the guy that owned it before me did them. The brakes were gone through and they look good. It has 4 brand new black shocks that look very stock. The water pump was replaced in the last 5 years and the thermostat and new radiator cap were just done. A lot of the work I did to this truck didnít need to be done but I didnít want to run into any issues so I addressed everything I could think of and I just really enjoyed working on it.

I have a full service manual that goes along with the truck. Itís very comprehensive. The truck was recently painted along with the bumpers, rims mirrors and grill within the last few months. I kept it the original Pine Green color. Itís probably one of the cleanest, best running Civilian Power Wagons you will find out there. This truck was VERY straight with minimal rust when I bought it. It is not missing anything. Itís NOT a show truck as I only paid $2500 for the paint job, but it is a SUPER clean original example of an early 1965 Dodge Power Wagon and it runs incredible with very low miles. I have more into it than I will get out of it. I took pictures of the many original stickers and plates in the truck. The red sticker is on the inside of the glove box door and talks about the locking hubs. There is also a yellow sticker on top of the radiator brace that talks about the positive and negative terminals for the battery. All the original stickers are pretty neat.

The only issues with the truck are these: The truck was purchased new from a Dodge Dealer as a radio delete truck so there has never been a radio installed in this truck. I have not put a radio in it which may be great for an enthusiast because the dashboard isnít hacked up at all. The only holes in the dash were from plow light switches and I had that welded up and sanded straight. You will see a small square black area on the dash that is ready for paint that I didnít have painted. If you want to drive the truck daily I am going to assume you will want some music and you will need to put a radio in it. I looked for an old original 1965 mopar truck radio that I was going to put in it, but I couldnít find one.

It also came with no sunvisors. You could easily put them in but I wanted to mention that it doesnít have sunvisors in the cab on either side. Iím not sure if that was an optional item or not. The passenger side doesnít even look like there is a place to hang a sun visor.

The other issue is that the rear bumper was slightly pushed in on the right side at one time before I owned the truck. Itís extremely minor as you can see from the pictures. I took a close up of the area in a picture. I never straightened the bumper and I just repainted it because it is so slight. The pictures will show you what I am talking about and how minor it is. The front bumper is completely straight and both bumpers are factory original.

The whole truck is original. Other than those few things mentioned above the truck is great. Iím selling this truck because my wife is pregnant and we need to get ready for the great event. This is a very big truck. If you are not familiar with these trucks you should realize that this is a very large pick up. I personally think itís the coolest truck around new or old. If you are local please feel free to call me and come take a look at it. You wonít be disappointed.

All history and receipts will go with the truck as well as any extra parts I might have. I have an old chrome single step for each side of the truck. They are old chrome bars with a metal step that has a rough sand paper type surface. I donít think they are factory but they are old school. I also have other little items that will go with it like touch up paint and miscellaneous pieces.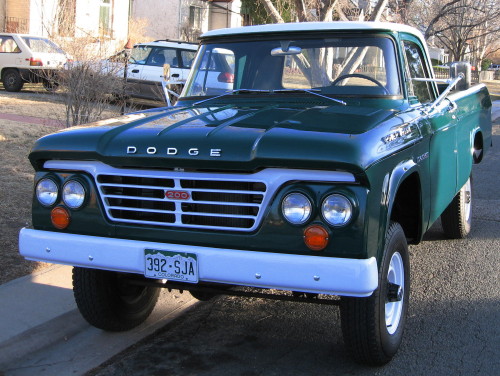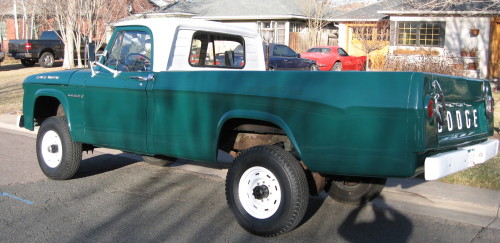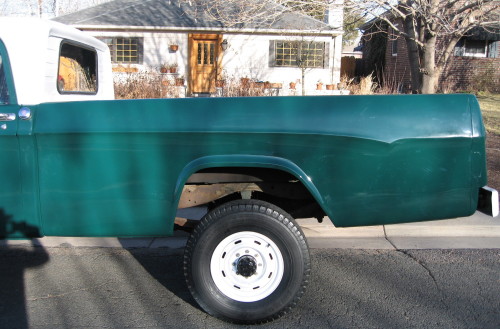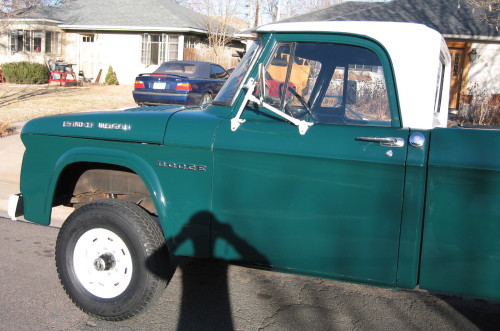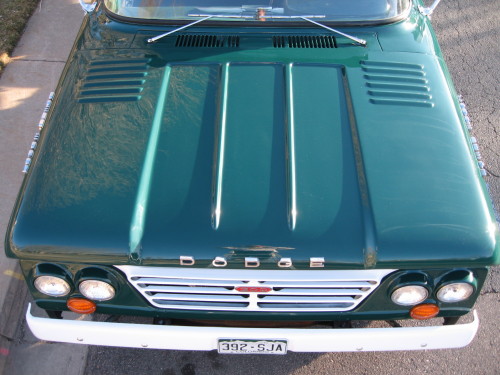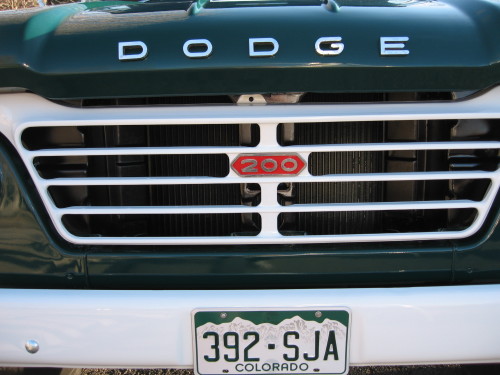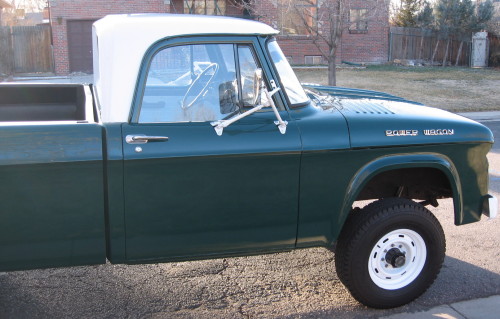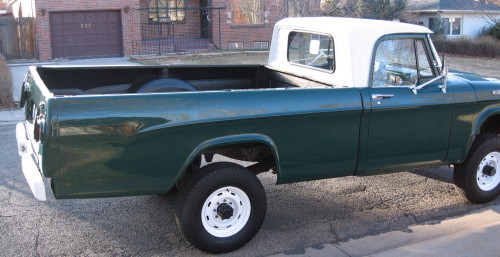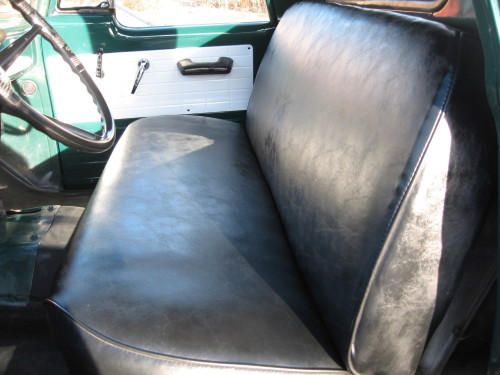 ---
Are you proud of your Dodge truck or car? Want to show it off? Please email me a pic along with a description of your vehicle and I will add it to the Gallery.




Joe Leonard 2009-05-28