---
Gallery Page 189
Derek Coiner's 1973 W200 Adventurer Sport Dodge Truck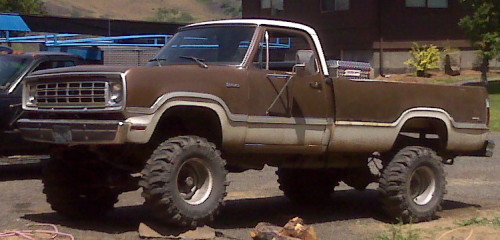 Derek got his 1973 Dodge W200 Adventurer Sport when he was 15. His Dad bought it for him for $500. It has a 360 small block 727, divorced NP205, Dana 44 front, factory Trac Loc Dana 60 rear. It had three burnt valves, exhaust leaks everywhere and barely ran when Derek first got it.

Derek replaced the factory 2 barrel carb and manifold with an aluminum Summit 4 BBL intake manifold and Carter Competition Series 650CFM carb on after having hardened valve seats, new valves and mild head work done. He and his Dad tried their hands at gasket matching the intake manifold and heads on the exhaust and intake sides.

Derek put a set of Hedman Headers on his truck with 2 3/4" collectors going to full dual 2 1/2" exhaust, with a set of Summit race mufflers (Flowmaster clones). He added chrome differential covers front and rear. He installed a Skyjacker 6 inch suspension lift, and a 3 inch body lift. Derek's truck rides on a set of 35" TSL Boggers on factory Dodge 8 lug wheels that have been widened 5 inches.

Derek has a new set of Adventurer Sport door panels, and plans to order a carpet kit, and reupholster the seats. He'd like to put the wider panel style dash in to have more room for gauges and a stereo and completely go through and redo the entire wiring harnesses in cab and out. Eventually he wants to take the cab and bed off again and paint the frame rails and axles. He needs to find the pieces of trim he is missing that divides the two tones.

Derek has the biggest truck at his school, and he is the only one with a Dodge 4x4. It gets called a "rust bucket" and "a piece of junk" a lot, but it's solid, with no rust holes like the Chevys at school have, and it's never left him stranded, and except for the head machining, he and his Dad have done all the work themselves.

Derek admits when he first saw the truck out on the farm they got it from, he was dissapointed to say the least. But some hard work, a little money, and a lot of effort, he's fallen in love with it, and he doesn't think he'll ever get rid of it.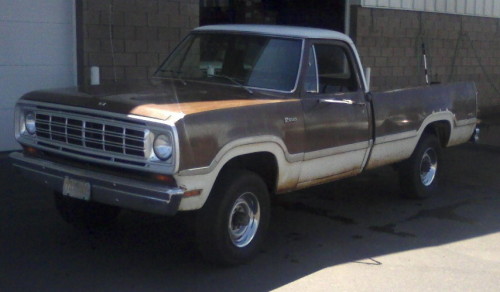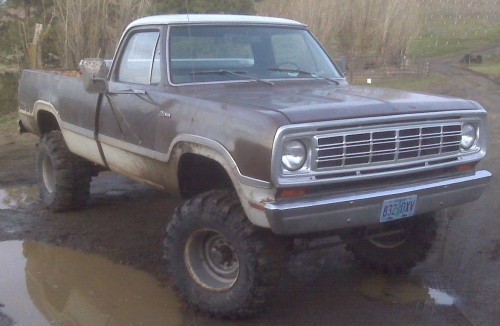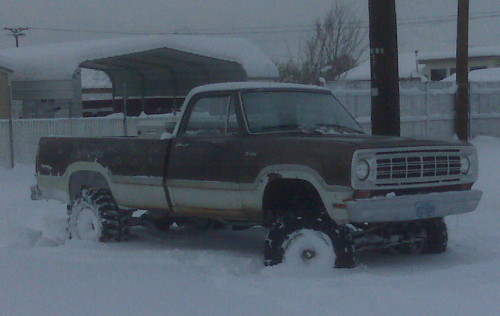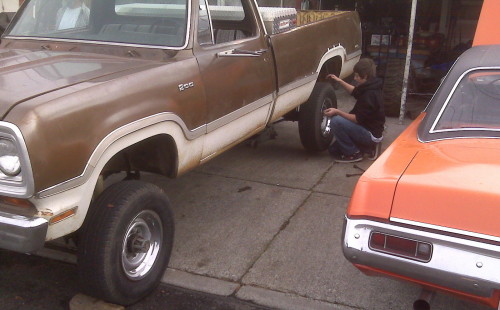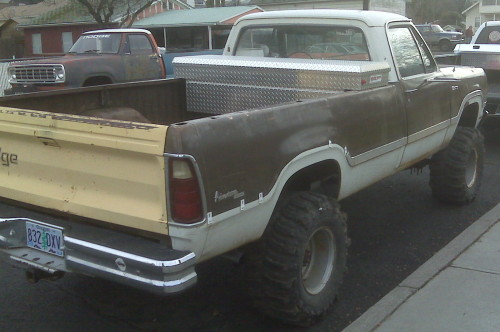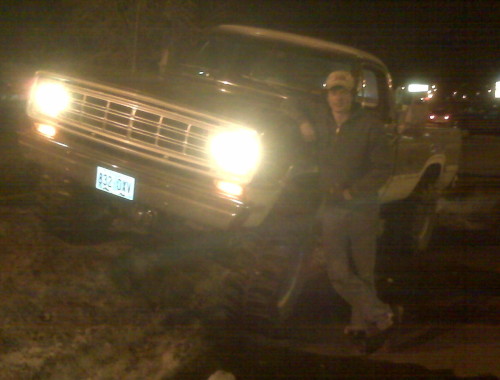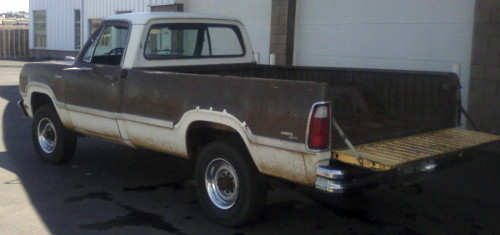 To learn more about Derek's 1973 W200 you can email him at: dunkrs@msn.com
---
Are you proud of your Dodge truck or car? Want to show it off? Please email me a pic along with a description of your vehicle and I will add it to the Gallery.




Joe Leonard 2009-08-17