---
Gallery Page 191
Anith Suvarna's 1983 W350 Dodge Truck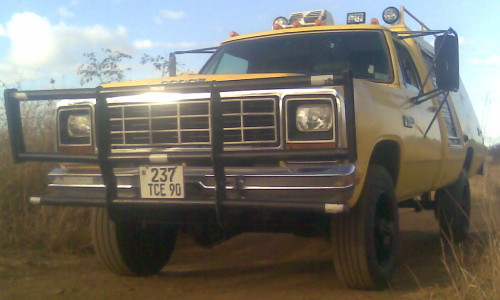 Anith bought his 1983 5.9 4BBL W350 Dodge truck from the Ministry of Civil Aviation in Zimbabwe, Southern Africa - where he currently lives. The cab and chassis were custom-fitted in with fire fighting equipment, including water and foam tanks made out of steel and a fiberglass body in made in France and delivered to the Zimbabwean Civil Aviation Ministry - who had placed the order.

This truck was allocated to a small town airport where no more than three flights a week came and left. Within 10 years, the country's economy deteriorated and the government could not afford spare parts and fuel to run these fuel guzzlers. They were replaced with smaller Japanese built fire tenders. Though these Dodges were retired, they just sat in the airport for years and were occasionally used on the tarmac. In 2008, they were auctioned off.

When Anith bought it, the truck had a mere 31,600 miles on the clock - which tallied with the vehicle's daily log book entries. He got the engine tuned up, replaced the brake master cylinder and wheel cylinder rubbers, cleaned the carburetor and fuel tank and started using it as a daily driver. Since the fire fighting equipment, water and foam tanks were too heavy, he removed them.

Occasionally Anith drives his Dodge truck to the African bush and camps out. He is in the process of converting his truck to a motor home with basic facilities. It runs on 10R 17.5 tires with a diameter of 33 inches. To-date the truck has run 32,200 miles.



Anith loves the power his Dodge W350 has as well as the way it looks!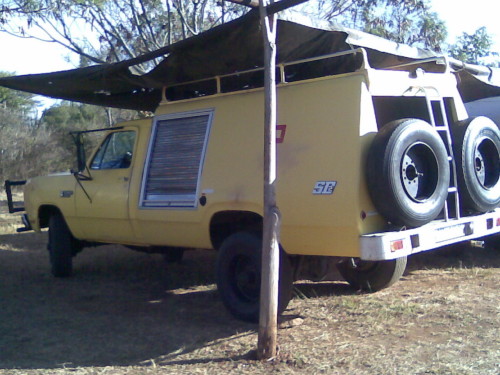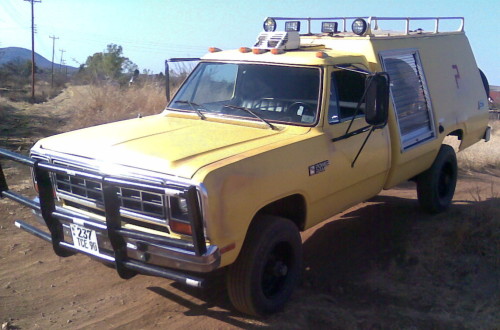 To learn more about Anith's Dodge W350 Dodge truck you can email him at: Anith.Suvarna@wfp.org


---
Are you proud of your Dodge truck or car? Want to show it off? Please email me a pic along with a description of your vehicle and I will add it to the Gallery.




Joe Leonard 2009-09-12