---
Gallery Page 199
3 Generations are Enjoying this 1978 Dodge Truck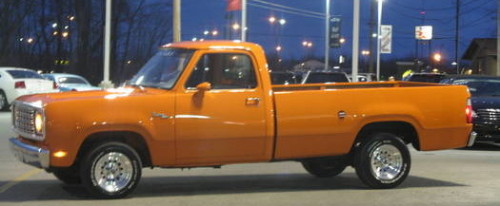 This is the Jones's 1978 318 automatic Dodge D100 truck. As you can see from the pictures, lots of hours were put into this restoration.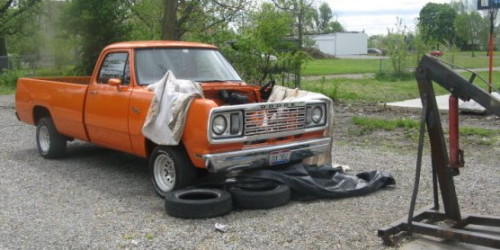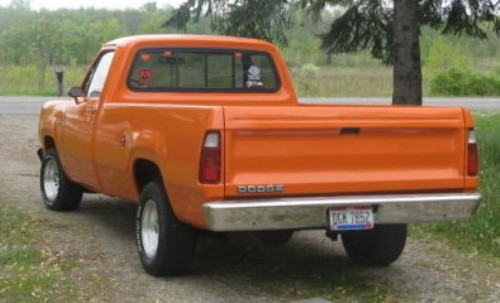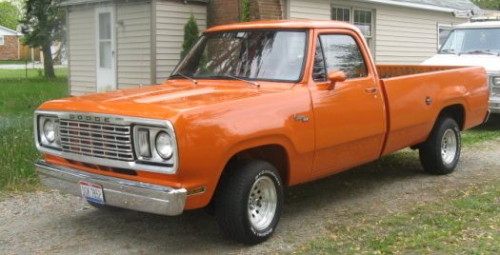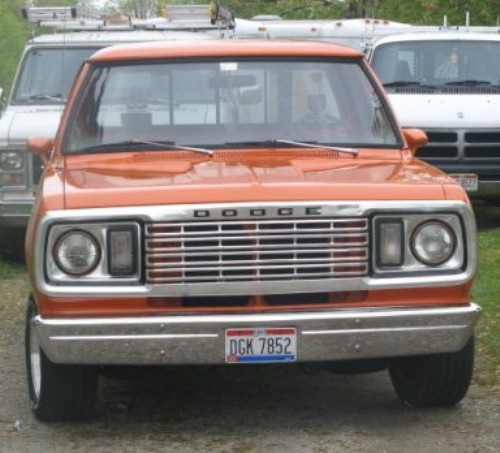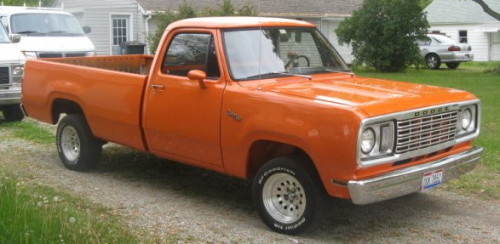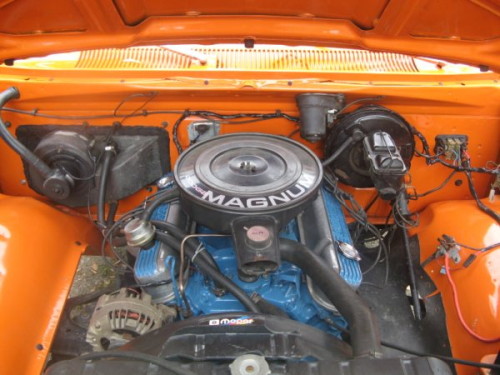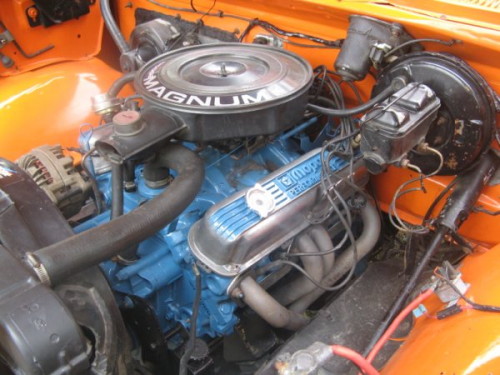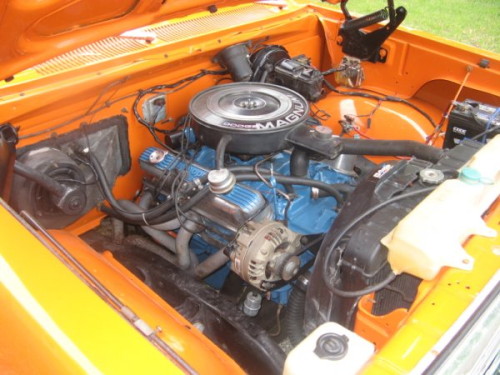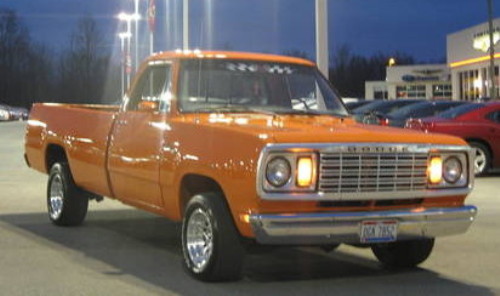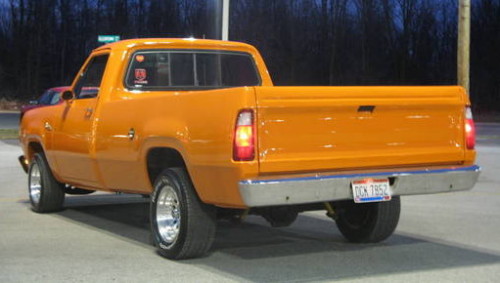 The "BEAST" has been in the family for about 22 years. It was originally a county truck from Florida before moving to Lima, Ohio where Piper, Ronald's father, was born. The steering column was bad, tranny beat, bad clutch, but the motor was still strong and running on old Kendall nitro 70 oil and hi test gas. That is what the BEAST liked and nothing else. The dash was messed up, nothing really worked properly. The first thing they needed to do was to get it street legal. The guy he bought it from for only $400, drove it down a back road to the rock mine where he worked daily. That was all it did for him. It was in real disrepair, yet the body, except for dents, was in good shape. Piper worked at a salvage yard, so he had a lot of parts at his disposal. Piper had a wonderful boss who let him take anything he needed to get the truck back on the road and didn't charge him anything. All he had to do in exchange for the parts was to show up for work and bust his hump.

Piper got the dash back in order and the lights all working properly. He tagged it and started driving it to work and to the dump. When a truck came into the salvage yard with a fresh 727 in it, he grabbed the transmission, steering column, pedal assy, brackets, linkage, harness, driveshaft and crossmember. Originally, it was a slant 6 3 speed on the column. Piper changed it to an automatic. He then added the vacuum booster to give it power brakes. The rear differential was on it's last legs so that got changed too. He also changed the intake gasket and rebuilt the BBD carburator. It ran good and stayed the same way for quite some years until he moved back to Ohio.

Piper was in a bad accident (hit head on by a tractor trailer on the highway in a company 1 ton van pulling a trailor) 7 1/2 years ago and got a little settlement money which has allowed him to do the restoration on his truck. So once the settlement was paid, Piper and his best friend,who is a body man, began the restoration.

Piper and his friend tore the old lady down to bare bones and resurected it all summer with Piper's two sons helping. They learned a lot. They did it all outside, right down to the paint. They were lucky to have some really nice dry, windless summer days that year. It was very hot, but that helped drying time with the 3 coats of paint they put on. Piper rebuilt the frame, everything was new, while my friend Bob and the boys did the resto on the body parts. Bob knows his stuff and it was all done right, new sheet metal on the cab, floor pans, rockers, all brazed and undercoated. They purchased what was SUPPOSED to be a 3:55 suregrip rear, it turned out to be a 3:23 limited slip. Piper didn't bother returning it to the guy he purchased it from in Alabama. He paid $750 for it with shipping. He thinks he got took on that deal, but they were in a hurry to get it done, because summer was getting on into fall and the weather was turning on them.

Piper gave the truck to his son, Ronald after the retoration for several reasons. Ronald came home from the hospital in the truck after he was born. Ronald learned to drive in it and he helped with it many many nights as a child, but Piper still drives it too. Ronald's daughter came home from the hospital in it too. 3 generations of Jones's have had the privilage of riding and cruising in this wonderful old Dodge.

UPDATE: June 2012

A machine shop in Ohio rebuilt a nice 360 Piper bought. They supplied them with two ported and polished 010. milled heads with 4 angle valve job, new bronze valve guides 202int and 160exh stainless steel valves with the best springs they could find. Piper's machine guy suggested staying with the dished pistons (89 block), so they could still run pump gas. The shop supplied the best bearings and chrome moly rings. They got a purpleshaft 480lift 280 duration cam, Edelbrock Performer intake, a Carter thermoquad carb along with a set of Hooker competition headers and purple Hornys which are too loud for Piper. The rear they bought couldn't take the punishment and snapped. His son Ronald installed his version of a Detroit Locker. He welded it solid (turns are not good, of course). Straight down the road, they haven't lost a race yet. Above 6500 rpm, the engine really really turns it on. It is very scarey fast, which is exactly what they wanted. Ronald tells people here it makes 650 horsepower. We had it dyno'd at the college here. Piper was impressed, at 6800 rpm it put out 504 HP.

Piper is now waiting for some more money so they can finish the nit pickys and shoot it one last time. And of course they need to get some new 275-60 BF Goodrich radial tires AGAIN.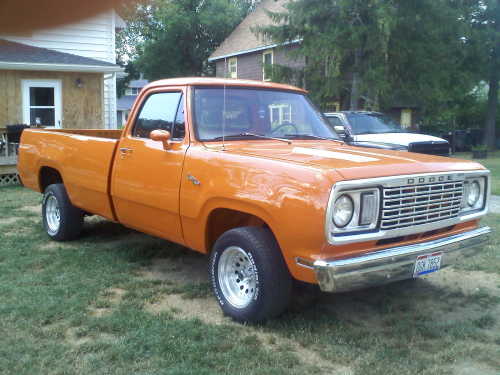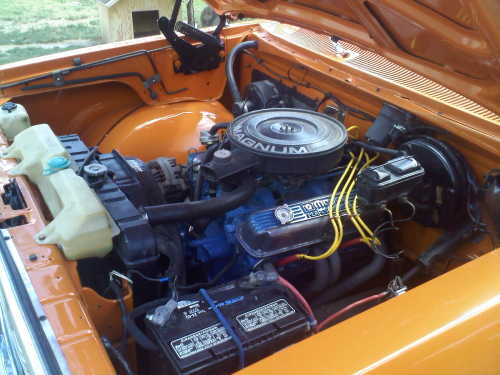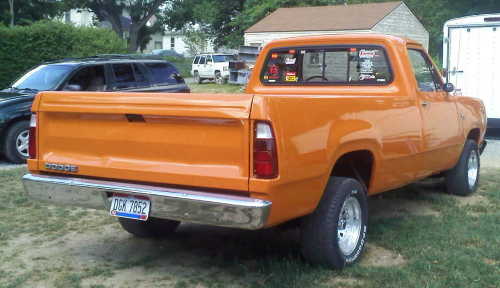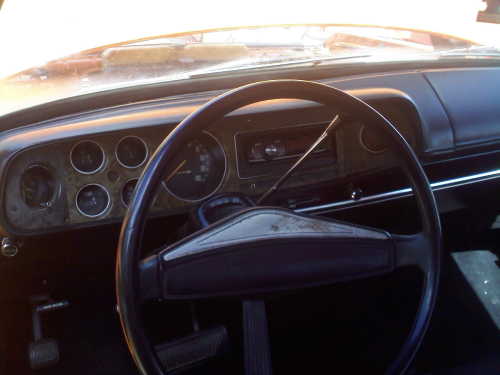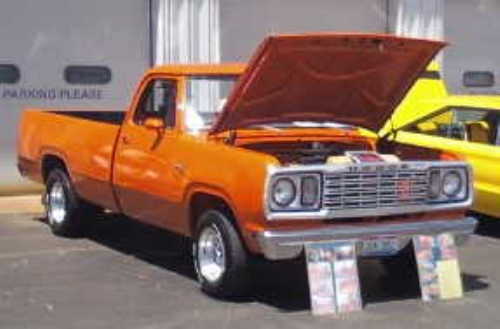 To learn more about Ronald and Emily's 1978 Dodge Truck you can email them at: ronald_jones15@hotmail.com or Piper at: pmjones13@yahoo.com
---
Are you proud of your Dodge truck or car? Want to show it off? Please email me a pic along with a description of your vehicle and I will add it to the Gallery.




Joe Leonard 2009-10-24