---
Gallery Page 220
Aaron Dufresne's 1985 Ram W150 Restoration Project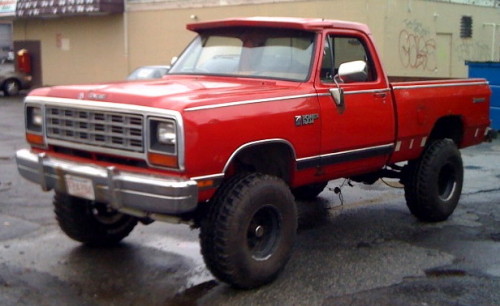 Aaron is doing a "simple" restoration on his 1985 Dodge Ram W150. His father bought the truck from their neighbor when Aaron was 6 years old and they were living in Greenfield, Massachusetts. The truck was originally a 5.9 360 V8 married to a 727 torqueflite 3 speed transmission connected to a 208 transfer case. The truck was originally red but since being bought it has been repainted twice due to minor damage.

The truck spent most its life as a billboard for Aaron's father's business, Holyoke Auto Glass and Trim Inc., and made frequent deliveries and pick ups for the business. So, for a while, it had stickers that advertised the business on the side and on the tailgate. Once it got repainted all of that came off.

The truck then became a plow truck for the businesses parking lot for a few years. A few years down the road, they began using it around the farm for hauling dirt, wood, and brush.

Then....the truck sat. For about 3 years or so the truck sat in his father's yard as he was in the process of building a new house. So too make a long story a little bit shorter...that's where Aaron came in. He asked his father if he could take ownership of the truck if he would restore it. Aaron's brother and he grew up driving this truck around the farm and their dad used to take them off roading with it throughout the Holyoke mountain range. Aaron's brother passed away when he was 19 and Aaron was 18. Aaron really wanted to take ownership of the truck in order to restore it so he could enjoy using it just the way he remembered his family riding in it when he and his brother were little. Aaron is now 21 and stated, "It's been a hell of a project!"

Aaron took the truck apart...doors, fenders, hood, bed...and ground the frame down and used POR15 to paint the frame and the axles and the new 4" springs he installed. Everything was painted up nicely. The only thing left to do on the truck is the body work and paint!

Aaron's truck is still a 5.9 360 V8 with 5,000 miles on it and he had to swap out the 3 speed trasmission and bolt in a rebuilt one. It has a 4" rough country suspension lift, no blocks... and 35" mud king mud terrain tires. There is still plenty left to do on the truck as far as cosmetics...but it runs great!

Aaron isn't close to the end of the restoration but he is getting closer to being able to drive it again and enjoy it. Below are photos of the steps he has taken so far.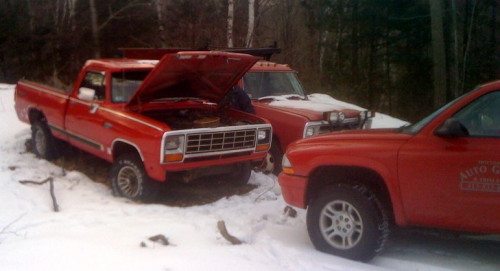 The above photo shows Aaron's Dakota attempting to jump the battery to start the motor after it had been sitting for a few years. It ran, after the exhaust pushed the rats nest out of the tailpipes!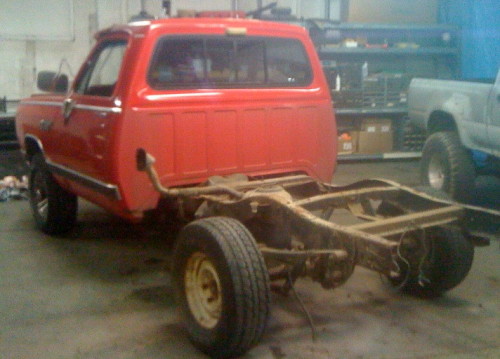 Picture above is the frame before Aaron started the long grinding process.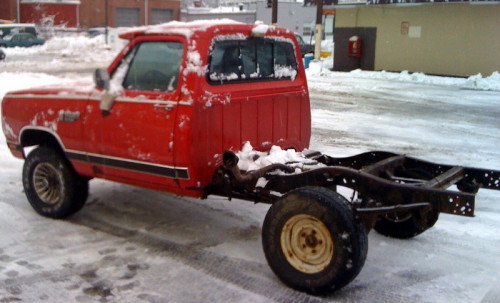 Aaron's truck above is sitting outside the shop waiting to be pulled back in after a snowstorm. Too bad there wasn't a plow on it anymore!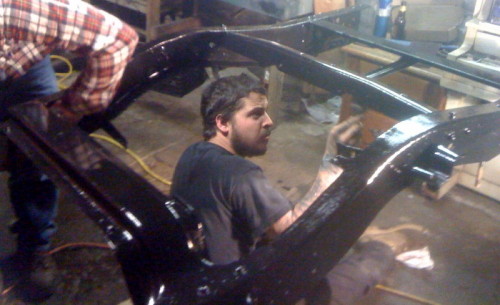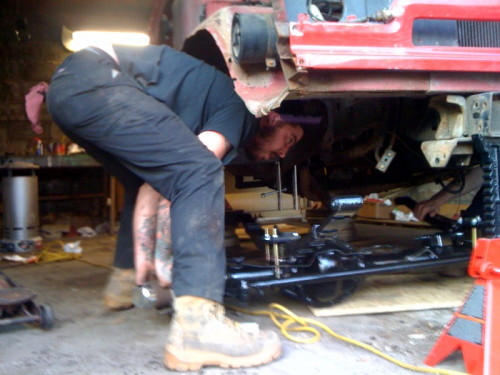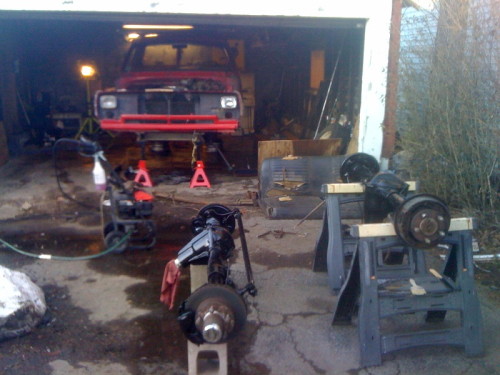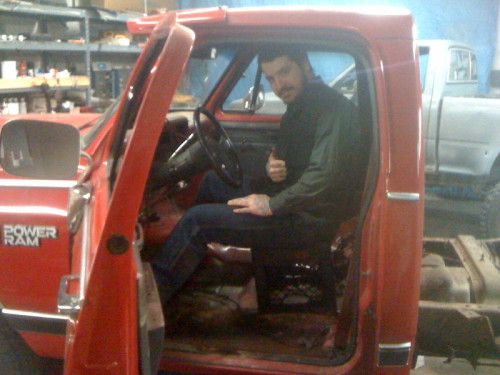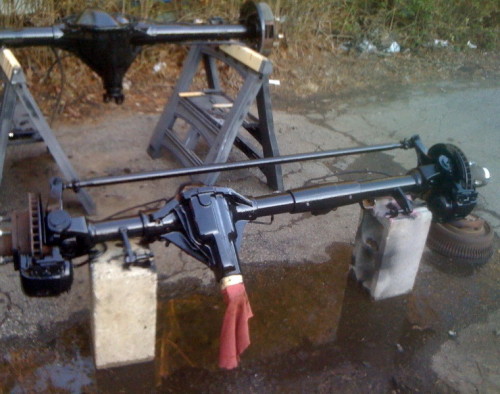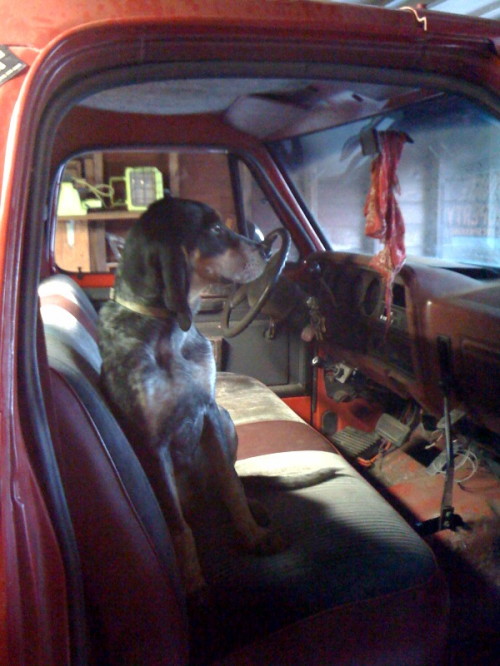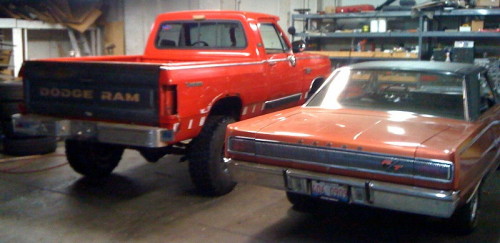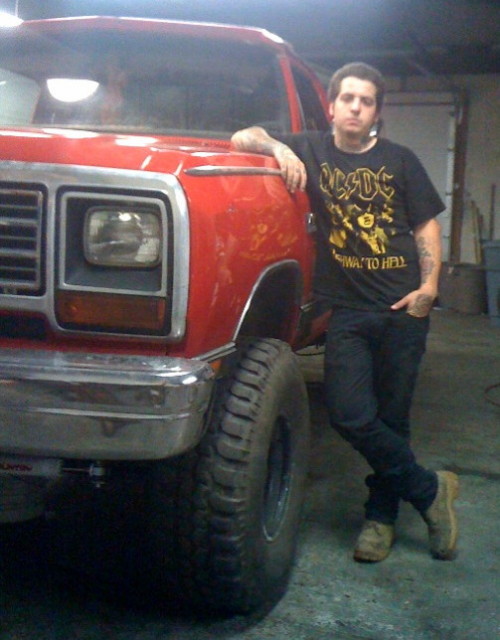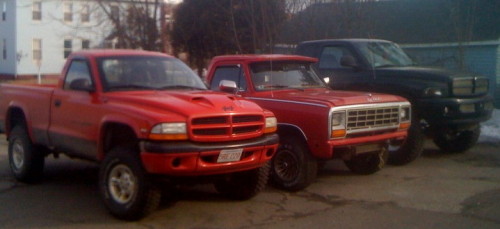 Above is a picture of Aaron's 2001 Dodge Dakota 5 speed, his 1985 Dodge Ram W150, and his his 1999 Dodge Ram 1500 with Skyjacker 7" lift and 38" tires.

Aaron plans to keep us updated with pictures of his further restoration so keep checking back to his page.

To learn more about Aaron's 1985 Dodge Ram W150 and/or his other trucks you can email him at: aarondufresne@gmail.com


---
Are you proud of your Dodge truck or car? Want to show it off? Please email me a pic along with a description of your vehicle and I will add it to the Gallery.




Joe Leonard 2010-06-14