---
Gallery Page 237
Rob Kares 1974 Dodge Power Wagon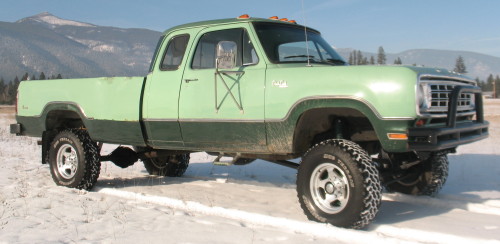 Rob bought his 1974 Dodge Power Wagon election night of 1996 which was just a few days after his 47th birthday. He had been looking for an older club cab pickup he could afford and get the whole family in. His two wheel drive low rider Chevy truck was only a standard cab, and Rob probably would have bought another Chevy but GM didn't make an extended cab until 1988, and the newer trucks were out of his budget at that time. Plus he didn't like the quality of the newer ones anyway.

Rob felt lucky to find this one as it had every thing he was looking for: four wheel drive, club cab, 3/4 ton, 360 V-8, slider back window, automatic transmission, power steering, power brakes, and high output heater. It was originally from Montana or Wyoming so it definately needed the heater. Even though it lacked A/C and disk brakes, Rob knew he could add those later (his Chevy didn't have A/C either). Rob thought it was funny to be buying a Dodge as he is mostly a Chevy guy but he is not a total stranger to Chrysler products since his Dad had owned two Chrysler Imperials that Rob had worked on in the past.

Over the past fourteen years Rob has owned this truck he has had the trans rebuilt (the engine was done when he bought it), complete brake overhaul with all new parts, new u-joints, rebuilt axle and driveline, tie rod ends, power steering pump and box. Rob ended up replacing the rear window as somebody had mickey moused in a window from some other truck that didn't seal (so it leaked). When Rob moved back to his home state of Montana in 2006 he changed out the tires and wheels to Pro Comp mud terrain 285 /75 R16 ,mounted on 16x8 Ultra alloy wheels, which are more suited to where he lives.

The truck came with a two barrel but nobody had a replacement carb or parts so he changed it to an Edelbrock manifold and AFB carb. Rob also added a set of headers and recently had the dual exhaust done with two and half inch pipes all the way back into a V-force (Flowmaster type)two in two out muffler. That made the biggest performance improvement to date, along with a K&N air filter. Rob has found out through the years that small block Mopars respond to bolt-ons like the legendary Chevy small blocks do.

In the winter of January 2009, western Montana had a nasty windstorm come through the Bitterroot Valley where he lives that ended up snapping off two trunks of a tree, one landed on the bed and the other one just nicked the left front fender. Even though the bed was destroyed, the cab was not touched. After two months of wrangling with his insurance company, he ended up with a pretty good settlement, better then he was expecting, so he was able to go further with his truck project. Rob ended up finding a used box about two hundred miles west of the Montana border (parts are getting harder to find for older Dodge trucks these days). Rob was also able to pickup a Nostalgic Air A/C kit(installation now in progress), and floor and cab corner patch panels from Rustrepair.com. One thing Rob has always wanted to do since he has had his Power Wagon was to change out the tired sagging front springs, a six inch lift kit from Skyjacker and four new shocks from Superlift improved the ride back to like new.

Rob's future plans are to get the seat rebuilt with new upholstery and the addition of front disk brakes from a newer GM truck Dana 44 axle, also a Gear Venders overdrive. This summer he is hoping to get the sheet metal parts replaced, then a complete paint job. After the tree fell on it, Rob had almost decided to sell it and get something newer. It came down to replacing the roof on the house or a newer truck. He ended up keeping it (the roof won out this time) with the advice from friends and to fix the things my wife didn't like about the truck, which is no A/C and an uncomfortable seat. One of the overriding reasons he kept this truck was because it has only left Rob stranded one timeafter putting on over 20,000 miles in fourteen years (odometer now reads 158171)! The fuel pump quit up in the woods in 2009. Rob also likes the fact that it turns heads since the lift kit and the Smittybilt Rhino Guard bumper was installed and now he can't wait to get it finished!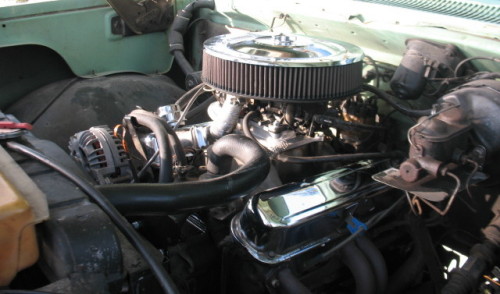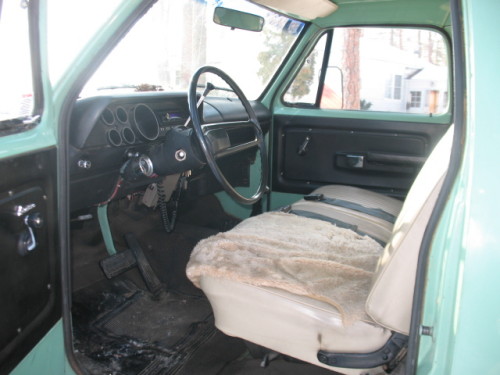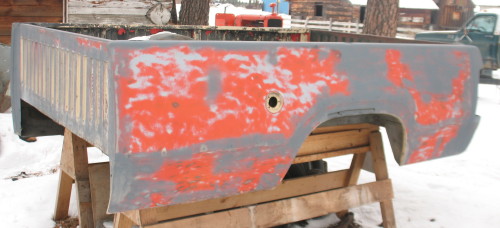 To learn more about Rob's 1974 Power Wagon can email him at: barnkat4@hotmail.com


---
Are you proud of your Dodge truck or car? Want to show it off? Please email me a pic along with a description of your vehicle and I will add it to the Gallery.




Joe Leonard 2010-12-18