---
Gallery Page 280
John Plowman's 1984 W150 Restoration Project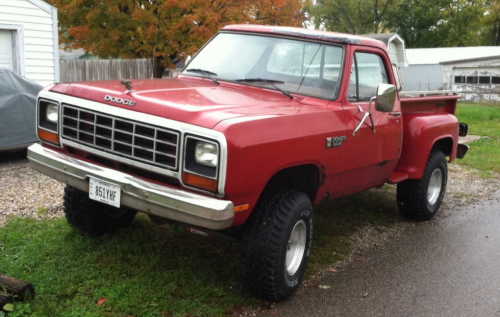 John and his son Ken own this 84 W-150 Stepside Prospector with a 318 2-bbl (for now). It has a 727 automatic. They are changing out the stock axles that have 3.23 open diffs for the 9-1/4 3.55 rear with Trak-Lok and Dana 44 3.54 front axle from John's 1992 Ramcharger, since it already had the Rough Country 4" lift installed on it. They figured they would use the deeper gears with the lift, and the Ramcharger axles were in better condition.

The truck is only supposed to have only 76k miles on it, but the 318 smokes like an insect fogging machine! John and Ken haven't yet decided on what engine to use, but the choices are an older 318, or 360, or a newer 318 Magnum!

The core support, inner/outer fenders and cab are all rusted pretty badly and will be replaced with donor parts from 91-93 Rams. They also have a tailgate coming from Oklahoma.

John and Ken want to get the suspension and body parts changed out before they decide on the engine, since it does still run and it keeps the Mosquitos away! The truck has Hedman Hedders and Purple Hornie header mufflers and the exhaust exits in front of the Remington 33x12.50-15's on 15x10" old style directional aluminum rims.

The Stepside has an AAR fiberglass R/T hood that Ken is borrowing from John for now! As soon as it is ready for wheeling, that hood is coming back off!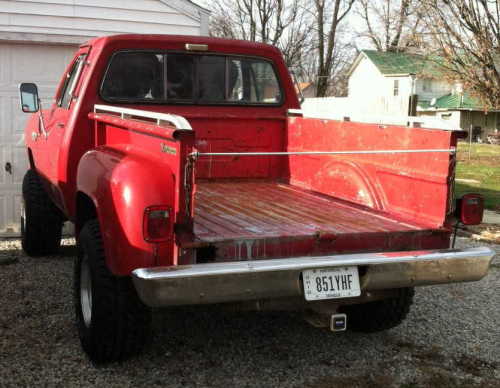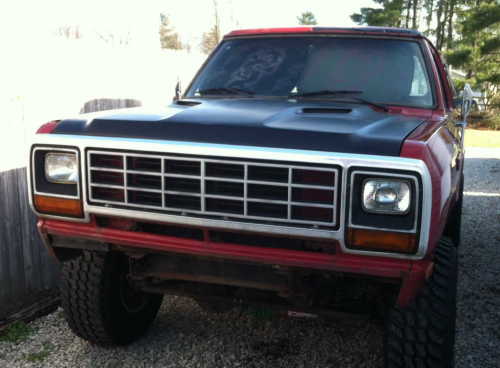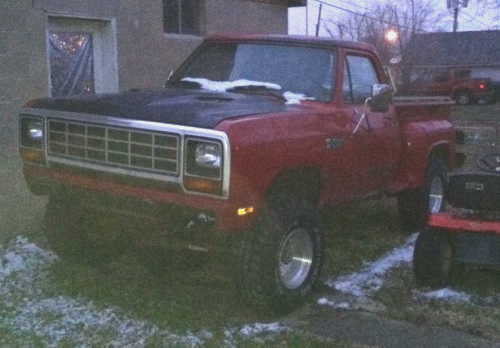 Below are pics of the donor vehicle for their project. After stripping it down they just might turn it into a one of a kind camping trailer.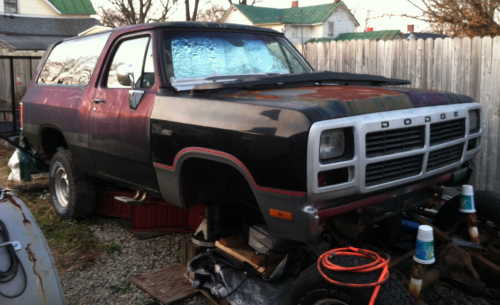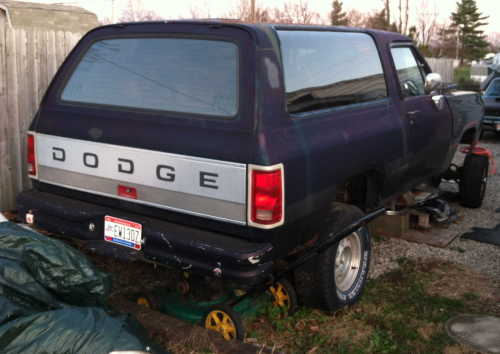 UPDATE (March 2012): John and Ken are in the process of changing out the rear axle and suspension, and have found a lot of rusty parts to work with. They also got a replacement tailgate.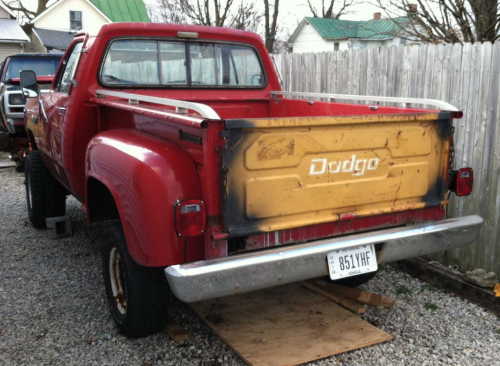 UPDATE (May 2012): It saddens us to report that John's son, Ken was killed in a car wreck in March. Our prayers and thoughts go out to Ken and his family.



John's father/son project is becoming a father/daughter project. A yound lady who was like a younger sister to Ken has become like a daughter to John. She is a great helper and wants to learn all about vehicles. John has started to work on his truck restoration project again. They have the rearend out, but the spring bolts are not comng out, so it looks like they will have to be cut or burn them out. John will keep up updated on their progress.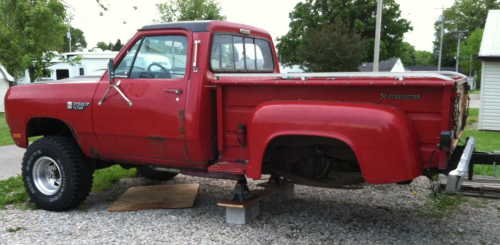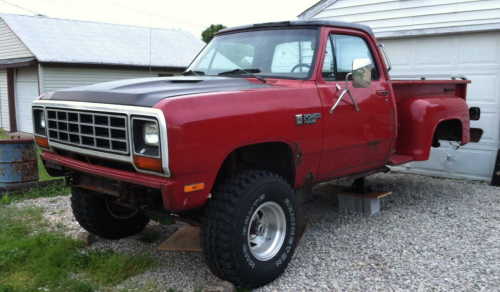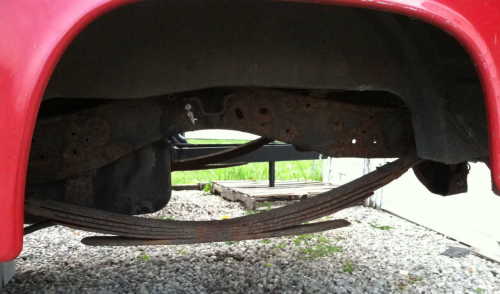 UPDATE (November 2012):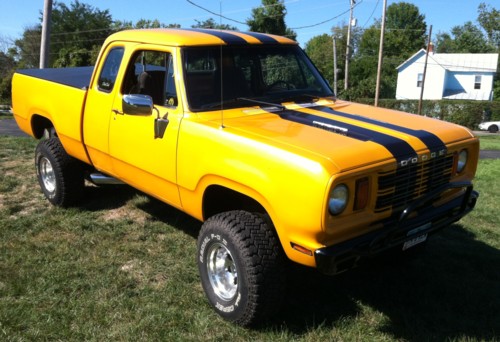 John found this 1978 beauty in our Dodge Truck For Sale section which is located
at the bottom of our Dodge Truck Gallery.





Click Here to see what John's truck looked like when he first go it.



John and his wife bought this 1978 Dodge Power Wagon to make it a tribute truck for their son Ken. John changed the valve covers and breather to the black Mopar Performance aluminum style. He ran his Predator carb for awhile, but when it started cooling down, starting became very difficult! He settled on the new Speed DeMoN carb and so far he loves it! He also added Elite Hedman Hedders for better clearance and to dress up the engine bay! For now she is put up for the bad weather awaiting the other mods John is considering, such as: HP clutch, purple shaft cam, heads, and intake!

John's truck has done very well at car shows. Out of the 10 shows that gave out awards, John and his wife received 8! Including Best Mopar & Best Truck! They also went to other shows with only dash plaques and everyone loved the truck! Below are some pics of the display. The Mopar cross was an idea that John had and his wife's brother was able to get it made out of laser cut stainless! This was done in memory of their son. The mounted license plates all have special meaning too! They look forward to attending several shows and events in 2013!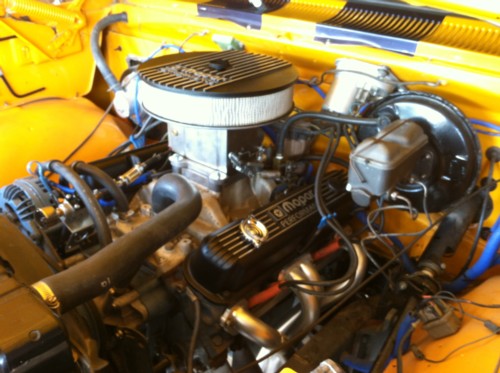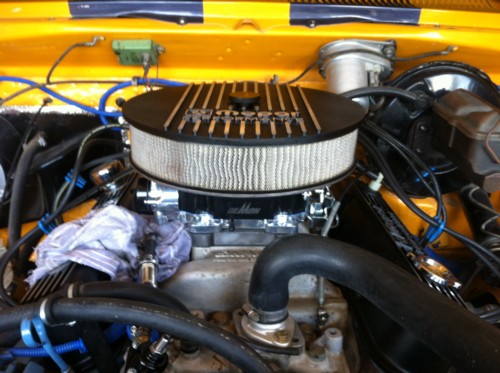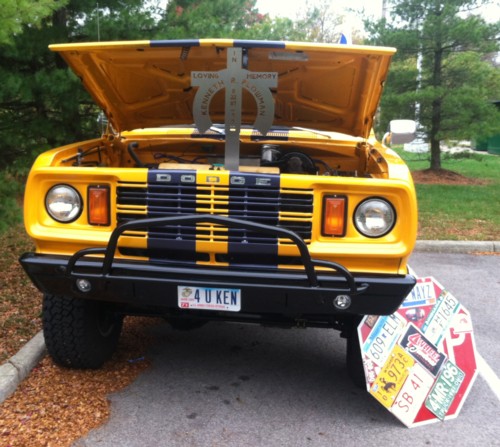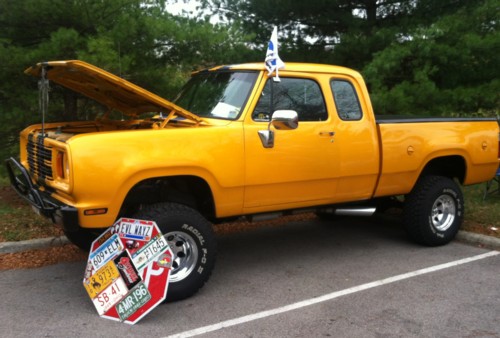 Work stopped on John's other trucks when he got the 78 Power Wagon. The 84 Ram or 92 Ramcharger will be put together sometime soon so they can have a winter play toy.



To learn more about John's 84 Stepside or his 1978 Dodge trucks you can email him at: jkp_61@yahoo.com




---
Are you proud of your Dodge truck or car? Want to show it off? Please email me a pic along with a description of your vehicle and I will add it to the Gallery.




Joe Leonard 2012-11-01