---
Gallery Page 299
Bob Hansing's 1976 D100 Dodge Truck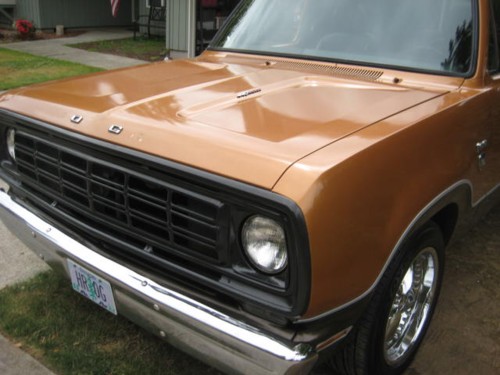 When Bob acquired this truck, it had a slant 6 and 3-on-the-tree. It now has a 440 Magnum and a 727 Plymouth automatic. The only letters of the word DODGE left on the hood were the O and the G. She was instantly named "OG". Bob's mechanic, Russ put the engine, tranny, seats, carpet, and gauges in her. Bob's son got the tires and Foose wheels. All Bob had to do was sponsor all that.

Bob doesn't have a color(s) picked out yet to dress her up. Perhaps next year he will get her painted

From what Bob knows of OG's story, she started out as a parts delivery truck. Other than the frame and body, not much was original when Bob got her. The slant 6 was out of a 72 Dart. The bench seat came from a 1996 Dodge truck. The grille was a 72. The tailgate was practically round, so she now has a Dodge Ram tailgate. Bob loves how all these parts are interchangeble.

OG passed the emission test in Oregon so she's legal.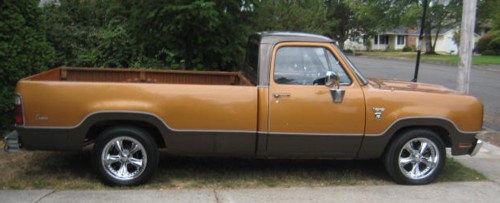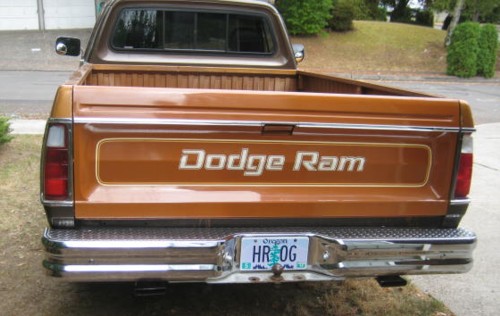 To learn more about Bob's 1976 D100 Dodge truck you can email him at: recovribob@comcast.net


---
Are you proud of your Dodge truck or car? Want to show it off? Please email me a pic along with a description of your vehicle and I will add it to the Gallery.




Joe Leonard 2012-08-28