---
Gallery Page 336
Andrew's 1990 W150 "Ex Forest Service" Truck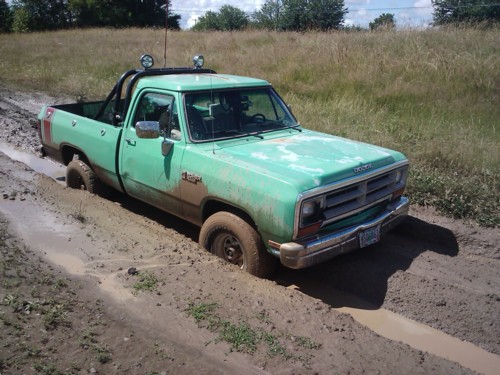 1990 Dodge W150 4WD "Ex Forest Service"
Dana 44 Front
Dana 60 Rear
450,000 + Miles
Original 360 Engine
Original 4 speed manual with Granny gear
Custom On board compressed air and stick Arc welder
Kenwood TK 81-80 ham radio, and NOAA equipped Uniden 40 ch CB
Full First aid / Burn Emergency response kit on board.
Fire Extinguisher
Tool Box with various tools and spare parts. as well as air impact tools. are carried onboard.
Andrew added the stripes himself, the driver side came out a little crooked :)


Andrew has a 12,500 LB winch, an original Hickey Sidewinder, he'd like to add to it. Inside, the truck is all original except for the stereo. The previous owner installed a newer radio, but Andrew has a stock radio from a Dodge Durango that will be installed soon. That way, he can keep that "Stock look" and still have a decent radio for long road trips.

Most the truck is stock from the Forestry Department. Andrew plans to keep a stock look as much as possible, while still adding little things to make his rig more offroad capable. He is the truck's 3rd owner.

This truck is Andrew's daily driver, he goes about 45 miles round trip to work 5 days a week.

The engine has yet to require a full rebuild (head gaskets a couple years ago, and a water pump every couple years) and still runs strong. Roll bar, he was told, is original from the Forestry Department, but he has no way to confirm it. Andrew added the lights where there used to be a trashed emergency light bar, he thinks it was a "Pilot" brand.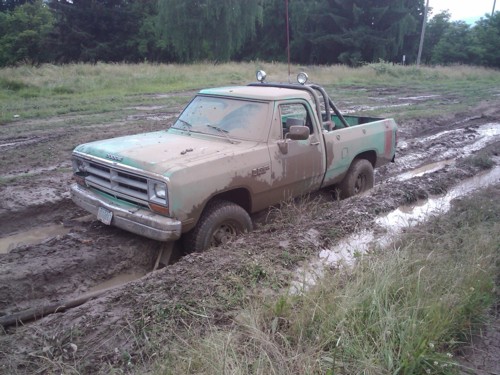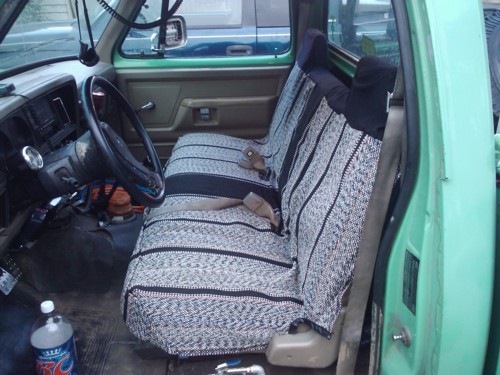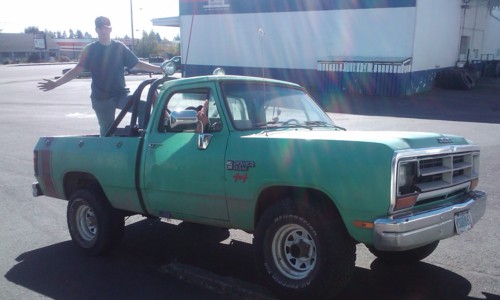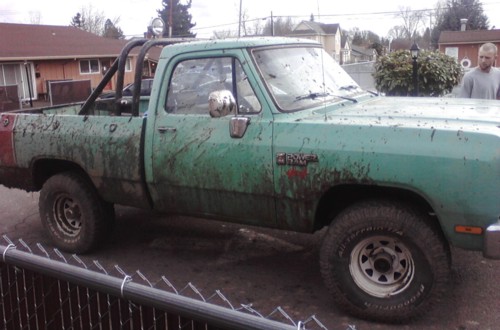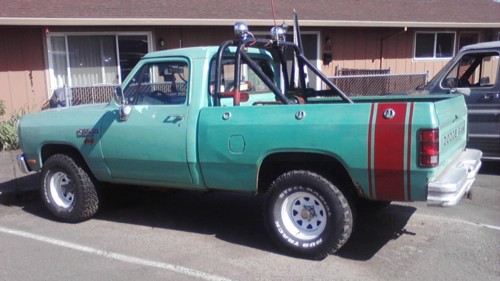 To learn more about Andrew's 1990 W150 Dodge truck you can email him at: snafu.myvnc@gmail.com
---
Are you proud of your Dodge truck or car? Want to show it off? Please email me a pic along with a description of your vehicle and I will add it to the Gallery.




Joe Leonard 2014-01-21