---
Gallery Page 351
Bill Henry's 1976 M880 Power Wagon AKA "Daddy's Ugly Truck"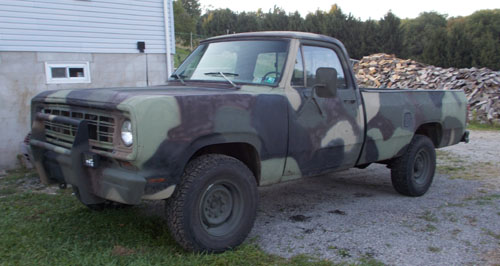 Bill's 1976 M880 Power Wagon is a firewood hauler he has had since 1991. He believes it is a retired National Guard or Army Reserve truck, that came from Indiantown Gap Military Base in PA where he lives.

The bed is from a later 1991 southern Dodge truck. It's had a few creature comforts installed over the years: power steering, cargo light, sliding rear window, 70s style grill guard and fog lights. The motor is the original 318, and still runs great. The 16 inch rims are from an early 90s Ford 3/4 ton, running Cooper LT265/75 16 tires, because 16.5 tires are too hard to find.

Bill's kids had a new JVC AM-FM-CD radio with MP3 and flash drive installed for Father's Day.

Bill did some paint work recently (Krylon rattle can), and his son added khaki to the color scheme. It's just another old soldier not willing to give up. The name, "Daddy's Ugly Truck", came from his oldest girl, who is now 26, but a toddler in 1992 when she called it "Daddy's Ugly Truck". The name has stuck since then.



To learn more about "Daddy's Ugly Truck" you can email Bill at: bill3542@msn.com




---
Are you proud of your Dodge truck or car? Want to show it off? Please email me a pic along with a description of your vehicle and I will add it to the Gallery.




Joe Leonard 2014-09-19