---
Gallery Page 358
Ira Agans' 1973 D100 Dodge Truck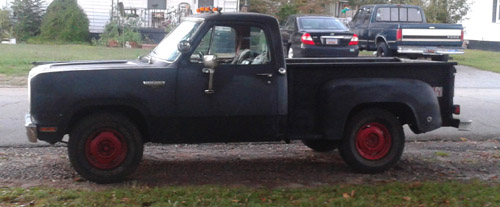 Ira Agans lives in Liberty, SC and owns this 1973 D100. He is originally from central Pennsylvania, and moved to Liberty in 2013. Living in Pennsylvania for most of his 41 years, where rust had been a constant enemy of his vehicles, when he moved to South Carolina, one of the first things he was excited about was having a rust free DODGE.

When Ira found this Adventurer, it had been sitting for a few years under some trees in the seller's yard He had gotten it on the road, and was letting his wife drive it. The truck had some issues that came with the cheap price: wiring had some burned sections, brakes were shot, including the booster, passengers side fender smashed, no ac -heat on all the time, one of the front coil springs looked like it had been hit with a grinder at some point (Ira's till trying to figure that out). The bed floor was covered with a plastic bed liner because the bed was comprised of a wooden door and scrap planks. Apparently, this guy really loved his wife?

The original 360 & transmission were gone, along with the original fleetside short bed, other than that, she was a peach! Ira drove it home. By the way, it came with new carpet and a new fender. The bed on it now came from a state truck, and the motor is a 1986 318 with a HD 904 transmission.

Some of the things Ira did were to add a 1973 340 intake, headers, Holley fuel pump, deleted the non-working ac by adding an idler pulley from Tractor Supply and using a longer belt, Moog coil springs, new brakes, repaired most of the wiring, and shop vac'ed out the mouse nests. A few things he added for style are clearance lights from various Internationals, utility light from a late 60's Ford fire truck, 1940's hood Ram from a Dodge car, fender emblems from a 60's Dodge 800 series (interesting note: on the back of the emblems you can see the word diesel cast backwards, but not on the front). Ira also added round quarter panel lights from a 1965 Chrysler New Yorker.

The truck runs a lot better than when he bought it, and readily breaks the rear tires loose. One of the items Ira has for the Dodge is an 833 4 speed transmission with OD. The pedals are already installed, and he just has to get a shorter drive shaft. Sourcing the correct bellhousing was difficult. Ira is going to be fabricating a 6-53 Rootes blower for the truck AFTER the over drive is installed.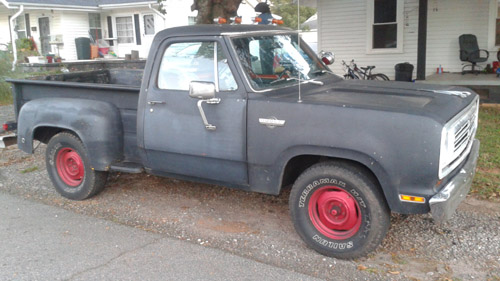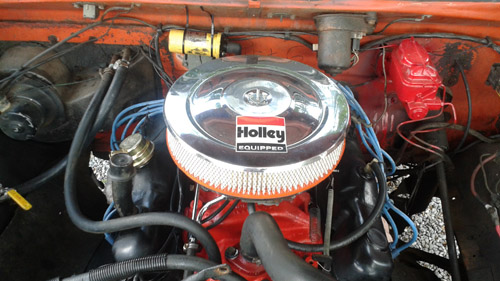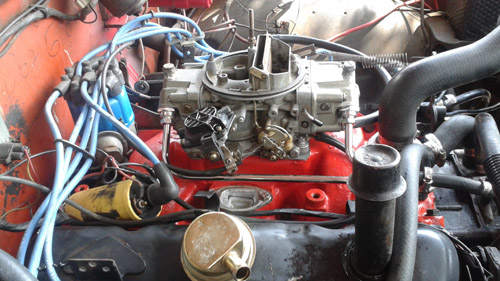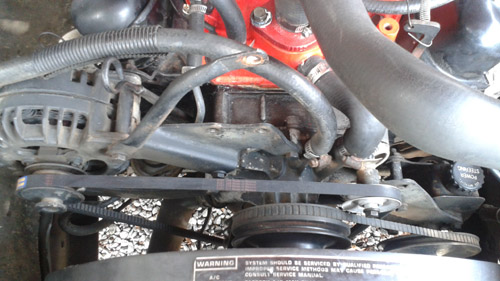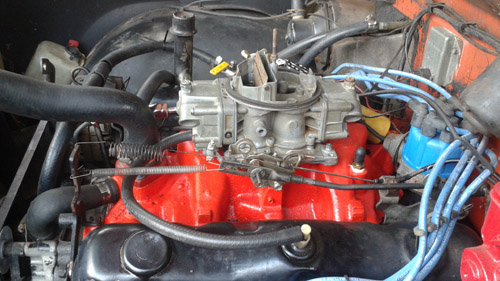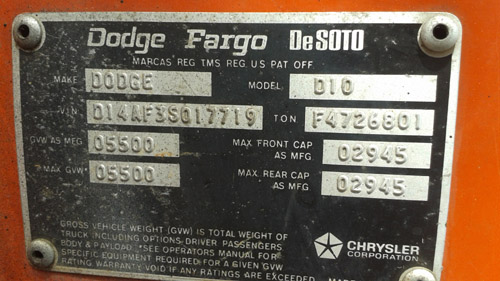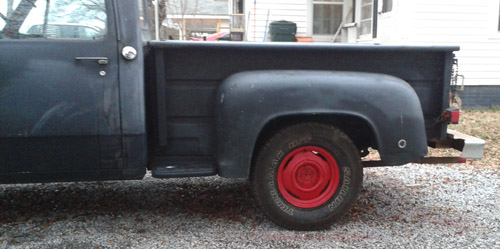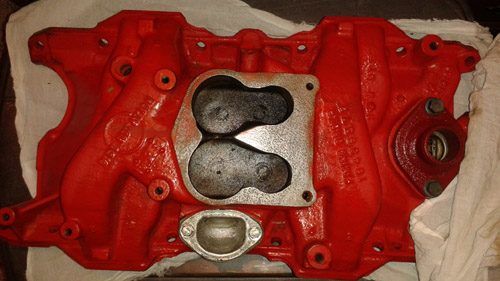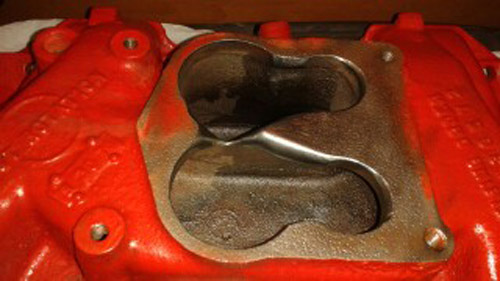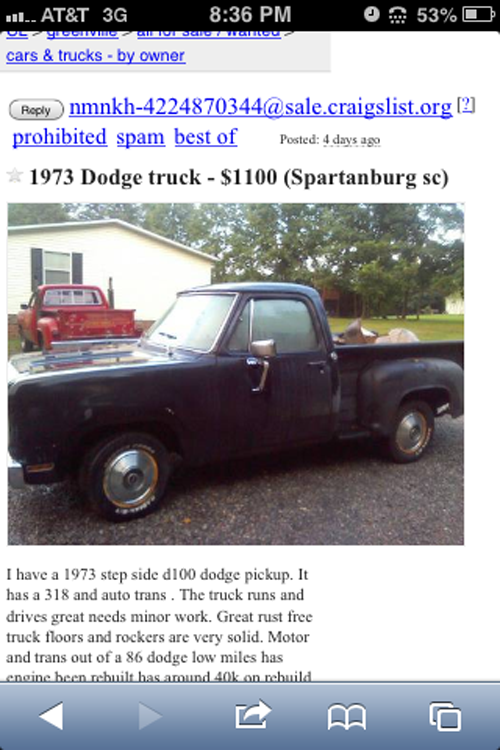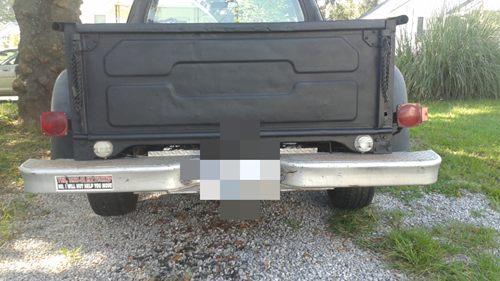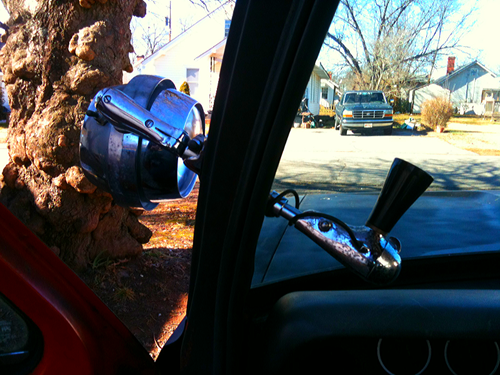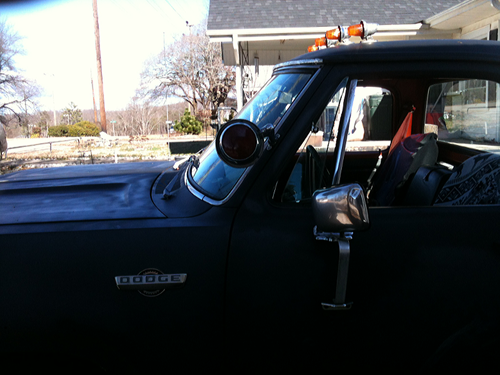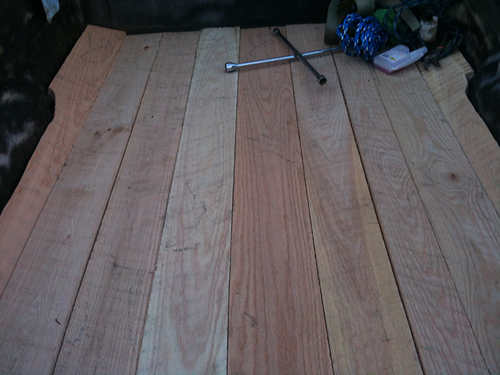 To learn more about Ira's 1973 D100 Dodge truck you can email him at: fury3prayfast@gmail.com
---
Are you proud of your Dodge truck or car? Want to show it off? Please email me a pic along with a description of your vehicle and I will add it to the Gallery.




Joe Leonard 2015-04-16