---
Gallery Page 47
Cam Hamilton's 1974 D300 "Texas Cadillac"

Cam's "Texas Cadillac" is a 1974 Dodge D300 crewcab - 360 NP 4 speed manual with no frills. He purchased it sight unseen from private owner in Georgia, except for small photo on Trucktrader web site (now Autotrader), in July 2000. He contracted with Hot Shot Express to bring the beast home. Plans were to strip it down, start over from scratch. Due to being "workforce reduction"ed out of employment in January 2001, it will become a daily driver for now. Hopefully one day it will be Cummins powered, Eaton AutoShift 6 speed trans, custom interior, exterior kept as original as possible, Dodge Brilliant Blue paint, Alcoa rims and aluminum flatbed for pulling 5th wheel trailer.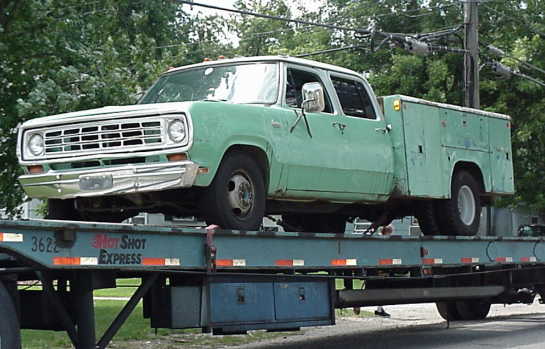 ---
Are you proud of your Dodge truck or car? Want to show it off? Please email me a pic along with a description of your vehicle and I will add it to the Gallery.





Joe Leonard 2007-02-07