---
Gallery Page 83
Doug Hertel's M37 Power Wagon "The Yellow BEAST"
Doug gets lots of looks with this BEAST. It is a 1955 M-37. He bought it as a stock military truck "just because". Doug used his the truck as a daily driver from 1980-84. This was a bit of a problem because the stock flat head six would only go 45MPH downhill, because the stock gearing was 5.89:1 and the engine would only rev to about 3500 RPM.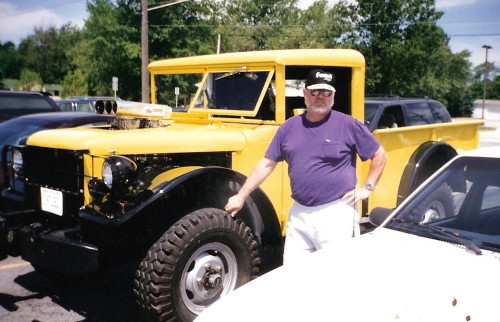 Doug's solution was to put on Q-35" Mudders. In 1987 he installed a small block Chevrolet and hooked up a 1 ton Chevy four speed transmission. He fabricated the motor mounts, exhaust system and used a hydraulic clutch because of space limitations. A local surplus dealer supplied a driveshaft that allowed the tranfer case to remain in the stock location. Doug also chopped the top 3 inches and modified all the glass to fit.

The next evolution's engine was a built 355 cu in small block Chevrolet with a 671 Weiand blower and 2 750 CFM Carter AFBs. The clutch had been bothering Doug's knee, so he installed a GM Turbo 400, highly modified with an anti-ballooning plate, high stall torque converter and added a nitrous oxide system. This was difficult to do because the tailshaft on the TH400 is so long. Sam Weiner Motors in Akron helped Doug find an 8 inch double U-joint driveshaft. A B&M high truck shifter is used because Doug sits so high in the seat.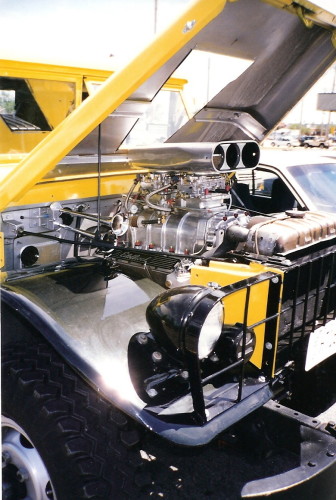 Doug changed to an electric cooling fan because of clearance problems the mechanical fan, but he was able to keep the stock radiator in the stock location. He changed the front and rear differential gears to 4.88:1 and added an LA locker to the rear differential because he kept twisting axles. This evened out the torque distribution between the rear axles and he's only broken "a few" since.

Doug painted the Corvette yellow himself, and the seats are "70s" Camaro on refabricated rails.

Doug is going to put "Power Wagon" emblems on the hood, that he bought from Mopar Truck Parts so people will know what he's driving.

Doug has started another project. It is a 1941 1/2 ton WC Dodge truck. If you would like to see Doug's new restoration project CLICK HERE.



Have questions for Doug? His email address is:

didjman@bright.net



---
Are you proud of your Dodge truck or car? Want to show it off? Please email me a pic along with a description of your vehicle and I will add it to the Gallery.



Joe Leonard 2007-03-01